'I, Russian Occupier': The hit propaganda film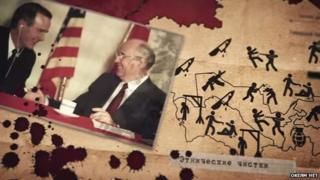 An independently made Russian propaganda film has been watched more than 3 million times on YouTube. Now, BBC Trending has tracked down the man who made it.
The film's title translates as "I, Russian Occupier", and its exquisite production feels more like the opening sequence of a big budget Hollywood movie than a homemade political message. It's narrated in husky tones by a voice representing the Russian nation itself. It lists the benefits brought to territories occupied by Russia throughout history, and in some cases the tragic decline they faced when "asked to leave".
"I occupied the Baltic States, many factories and power plants were built on their farm lands," the voice explains, adding "I was asked to leave them... now they sell sprats, and some of their people clean toilets in Europe". The film argues that Central Asian states once occupied by Russia have now been reduced to growing cannabis since it left. And the polemic doesn't end there. "I'm an occupier by birthright. An aggressor and a bloodthirsty monster," it declares. The film attacks Western values, dropping in visual references to same-sex parenting, and rounds off by "sending" the entire message to US President Barack Obama.
The film will be seen by many as a justification for Russian actions in the evolving Ukraine crisis, but who is behind it? BBC Trending spoke to its creator, Evgeny Zhurov, a 29 year old freelance motion graphics designer from Russia. He uploaded it to a YouTube channel that regularly publishes pro-Russian films. Zhurov says he created the channel, and an associated group on Russian social network Vkontakte with almost 25,000 followers. BBC Trending asked if - given the quality of the production - he or the group received funding from any official bodies. Zhurov claims not. "Nobody paid me," he says. He borrowed the words used from Aleksei Ivanov, a 45 year old Russian writer whose work Zhurov found online, developing the film around them. "A full-scale information war is being waged against Russia. I'm just taking part in the war on Russia's side," he says. "My goal is high-quality pro-Russian propaganda". The audience for the video is not the West, or the former Soviet Union, but Russians themselves. "I mainly did it for us... so that we do not forget our great history. Lots of different complexes have been imposed on us, people are trying to convince us that we are somehow inferior".
The video has prompted a welter of comments online - more than 11,000 under the original video itself - and perhaps predictably, it's divided opinion. Many found the film embarrassing. "Please stop making videos! They're shaming my homeland in front of the whole wide world!" wrote one. But others were impressed. "I'm proud to say that I love Russia and Putin," read another comment. Links to the video have been tweeted by the president of Estonia and even Russia's deputy prime minster - from totally different perspectives of course. Zhurov tells us he hasn't been contacted directly by any official parties.
Blog by Sam Judah and Dmytro Zotsenko
Next story: Bypassing Putin: the students working to resolve the Ukraine crisis
You can follow BBC Trending on Twitter @BBCtrending, and find us on Facebook. All our stories are at bbc.com/trending.