China's crush on London's male commuters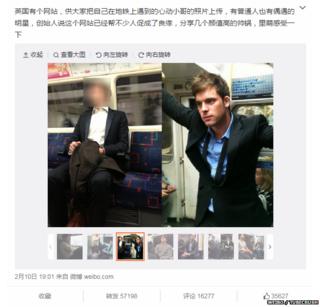 Here's something that surprised us when we saw it trending in China: the "handsome" men of the London public transport system.
The Tube - as London's underground system is known - is famous around the world for all sorts of reasons, from its history to its distinctive logo and map. But its reputation for gorgeous looking people wasn't something we were aware of at BBC Trending.
Yet that is what appears to be happening on the Chinese micro-blogging website Sina Weibo. Images of various male London commuters are being shared there, and one image alone can generate in the region of 100,000 likes and shares . Most of the comments about the images are very positive. "I want to take Tubes everyday!" wrote one Weibo user. "Handsome people really look good in anything," said another.
These pictures come from a British website that allows users to submit secretly taken photos of attractive men on the Tube. TubeCrush.net was set up four years ago by a group of friends living in London. "The third biggest source of traffic to our website is actually from China," says Stephen Motion, the site's co-founder. "The website isn't blocked in China. It's fully available in all of the cities. We see most traffic coming from Guangzhou and Shanghai."
There are privacy concerns about the site. After all, these images are snapped and sent in without the knowledge of the men themselves. Tube crush argues that the images are legal because they were taken in public places. A second concern is whether the images are objectifying men, but Stephen Motion denies this is what's happening. "Some people might not feel comfortable having their picture published on the website. We have a photo removal function where they can request to take it down," he says.
"Interestingly we don't receive many requests. When people discover they've been photographed, they're actually quite proud."
What is the appeal of these London commuters for Chinese internet users? "When Chinese people think about British men, we think they're true gentlemen, because of their good manners and politeness," says Ruhua Xianyu of the BBC's Chinese Service. "It's more about the perceived quality of the man himself, than how he looks."
What do you think? Hundreds have already responded to us on Facebook and Twitter. Here's a summary of the reaction.
Reporting by Anne-Marie Tomchak
Next story: The Indians who have a beef with the ban on beef
Or maybe you'd like to watch: Coming out as gay at Chinese New Year
You can follow BBC Trending on Twitter @BBCtrending and Facebook All our stories are at bbc.com/trending