Pep talk #Besomebody backfires at Texas school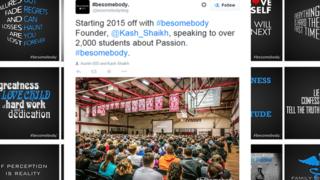 US students usually face school assemblies with a mix of dread and boredom. But at one Texas school, students pushed back online against the invited speaker.
Kash Shaikh is the founder of an app called #BeSomebody. It matches people who have a passion - say, playing piano - with those who share the same interest or who want to book a lesson.
He describes the app as part of his larger goal to "inspire people to do what they love".
That's the message Shaikh said he was bringing to hundreds of students at Austin High School in Austin in January, when the school invited him to speak.
But some students were not impressed.
Students critical of the talk said Shaikh began following his passion when he was unlikely to lose everything by doing so - he had earned a significant amount at the tech company GoPro before leaving to start #BeSomebody - and were frustrated by the implication that someone not doing what they love was a "nobody".
KAHS, a satirical news show produced by students at the school, made a parody of Shaikh's talk on YouTube, portraying their teacher Gil Garcia as a "passionary" (what the #BeSomebody app calls their users), who tries to convince his students to follow their passion in increasingly absurd ways.
A student editorial published a few weeks later said Shaikh's message fell flat.
"Sure #BeSomebody has a feel-good message meant to inspire the youth, but at its heart, #BeSomebody is a company," student Sean Saldana wrote.
"And there's just something inherently wrong about a company coming to a public school, wasting government resources (time that could be spent in class and money that's paying a staff that isn't working), to half advertise to people who have no choice about whether or not they want to hear. The whole thing is just kinda gross."
Shaikh rebuffed the criticism in a blog post, tagging two student organisations on Twitter - "A few UNinspired high school kids & faculty at @sfamaroonnews @KAHSNEWS inspired my latest blog post".
Kate McGee, an education reporter at Austin's public radio station, said she saw the blog post and tweet responses begin trending on Reddit.
"I think that people were surprised by the start-up's response to the kids," she said "The optics of it - the guy getting mad because of couple of high school kids criticised him."
McGee says the school is a mix of teenagers from different economic backgrounds. Students have told her teachers impress on them to not accept things at face value.
Shaikh told the BBC he was "shocked" by the social media reaction, saying he received some racist comments.
He has spoken more than 150 schools since 2009 and said the reaction on the day of the speech - and in messages he's received from students since - had been very positive.
While he thought the video "was really well done", he decided to tag the students organisations on the tweet because "I wanted them to read a different opinion".
What followed was more online conversation - and criticism - about #BeSomebody's response, as McGee reports. That included a tense Twitter exchange between Garcia and one of #BeSomebody's employees.
Shaikh says his message hasn't changed, but he "learned a lot about the back and forth on social media". He says he won't likely repeat this particular talk, which focused largely on his own story, to students.
"We want to focus on the kids and what they want to do."
Reporting by Taylor Kate Brown
Next story: Why some Indians want to 'Ban BBC'
Or maybe you'd like to watch: The 'baby rappers' of the banlieues
You can follow BBC Trending on Twitter @BBCtrending, and find us on Facebook. All our stories are at bbc.com/trending.