Indian liberals mocked - and mocking - online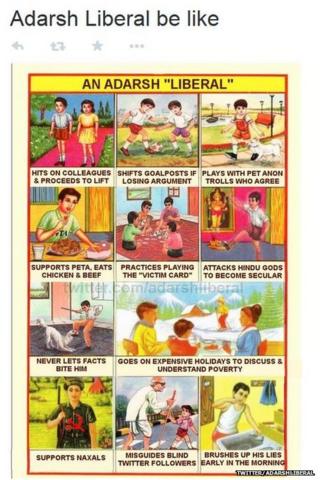 Indian liberals are being skewered on Indian social media - but they're fighting back with memes and tweets of their own.
An anonymous Twitter user is poking fun at the hypocrisies of liberals in India. @AdarshLiberal - which translates as "an ideal liberal" - parodies those who go on expensive holidays to discuss poverty, or support animal rights while eating beef. And in addition to the parody account, the hashtag #AdarshLiberal has been used more than 50,000 times on Twitter by people commenting on other supposed characteristics of left-wingers.
"#AdarshLiberal like seminars on rural poverty especially when held at 5-star hotels serving free food and booze" - @rupasubramanya
"For an #AdarshLiberal it is always country first. Especially if it is a country which is critical of India" - @IndiaSpeaksPR
"According to #AdarshLiberal every terrorist is not a Muslim but all Indians are rapists." - @Keisar_
@AdarshLiberal is the latest spin-off to use drawings based on An Ideal Boy (Adarsh Balak) a popular Indian comic strip of the 1980s and 90s which demonstrated the good habits of "ideal" children. Earlier we told the story of the "bad girl" comic strip, which satirised traits that Indian women are judged on.
The term Adarsh Liberal is usually used to criticise voices that oppose the current government, led by the Hindu nationalist BJP party, explains Mukesh Adhikary from BBC Monitoring. "Many top journalists and social activists have been branded as 'pseudo-intellectual liberals,'" he says.
But some liberals are biting back. The hashtags #AdarshBhakt ("An Ideal Devout") and #AdarshSanghi (a reference to a right-wing Hindu organisation) were also circulating - albeit with much lower numbers - on Twitter.
"After abusing [former] Prime Minister Manmohan Singh for 10 years, an #AdarshSanghi will ask you to respect [current leader Narendra] Modi because he is Prime Minister." - @brownbrumby
"The #AdarshLiberal eats banned beef, the #AdarshSanghi has a beef about banning." - @sanjayuvacha
"#AdarshLiberal is known for spreading humour and wit. #AdarshSanghi is known for spreading rumour and ..." - @JoyDas
"On Twitter, Hindus who back the present right-wing leadership are popular for trolling the 'liberals' who they look at as hypocrites. A fight between these two sides is not uncommon on Twitter," says Adhikary.
That ideological split was lamented even by one of the internet parodists. The "SusuSwamy" Facebook account mocks a right-wing Hindu politician. "Social media in India is divided," says the man behind it, pointing out reactions towards a BBC documentary on a 2012 gang rape and the lynching of a suspected rapist as the signs of a clear ideological divide.
"Twitter used to be a laugh riot initially," he told BBC Trending. "Now it's just a riot."
Blog by Samiha Nettikkara
Next story: Publisher's Mum campaign fails - or does it?
Or maybe you'd like to watch: Five things we know about #DancingMan
You can follow BBC Trending on Twitter @BBCtrending, and find us on Facebook. All our stories are at bbc.com/trending.