Second student allegedly rejected because of India's 'rape problem'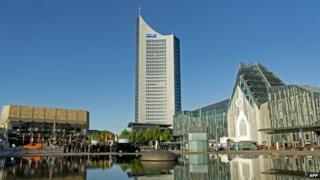 After allegations that a German professor unfairly rejected an Indian student, a second man has come forward, telling BBC Trending that his application was rejected by the same professor because of his country's "rape culture."
The allegation first surfaced in a thread on the question-and-answer site Quora. Professor Annette Beck-Sickinger at the University of Leipzig in Germany apparently dismissed an application by a male Indian student citing the "rape problem in India which I cannot support."
The story went viral on Twitter, was covered by several news websites, and caused such an intense debate that Michael Steiner, Germany's ambassador to India, wrote a letter to the professor. "Your oversimplifying and discriminating generalization is an offense ... to millions of law-abiding, tolerant, open-minded and hard-working Indians," he wrote. "Lets be clear: India is not a country of rapists."
Although the professor apologised in a statement, she claimed that the email had been cobbled together. "I never wrote the mail in this way, it has been put together from individual segments taken from different mails," she says in her statement.
University president Professor Beate Schücking stood by the professor, saying in a statement Wednesday: "The alleged refusal e-mail which has been spread on the internet never existed in this form."
Schücking says she examined the email chain and had no doubt that the professor is telling the truth.
"Her comments on the issue of violence against women in India were not her first answer but were made in reply to a provocative e-mail which followed the initial e-mail. To say it clearly: I do not tolerate these comments. However, I accept Professor Beck-Sickinger's excuse. And I can say: the published e-mail has obviously been faked."
Schücking says the incident is being reviewed by internal committees and the university, citing German privacy law, says it cannot release the full email conversation.
Adding to the controversy, now a second Indian student has emerged alleging that the professor rejected him for a placement on the same grounds. In an email seen by BBC Trending, the professor allegedly wrote: "thanks a lot for your application. Unfortunately I do no longer accept any male Indian guests, trainees, doctorial students or PostDocs due to the severe rape problem in India. I cannot support a society which is not able to respect females in any aspects. I think cultured people cannot close their eyes."
The student, spoke to us on the phone, says he wishes to remain anonymous because of the potential for publicity to affect his academic career. He says the exchange with Dr Beck-Sickinger took place in early 2014.
The student had applied to several universities for placements, he said, and a death in his family around the same time meant that he did not make a big deal about the incident - he didn't post the emails on social media or contact the news media at the time. He says he was prompted to act after hearing of the latest allegations.
"It was a bit of a shock that a scientist would have an attitude like that," he says.
The university said that Beck-Sickinger has deleted that particular email exchange, but argues that she never answered an application in that way. Prof Beck-Sickinger did not reply to several requests for comment. Leipzig University's press office did point out that the professor teaches four Indian students in her Masters programme and two Indian students in her laboratory internship programme - all male.
Blog by Mike Wendling
Next story: Iranians back "eye for an eye" punishment
Or maybe you'd like to watch: Five things we know about #DancingMan
You can follow BBC Trending on Twitter @BBCtrending, and find us on Facebook. All our stories are at bbc.com/trending.