Clarkson v other petitions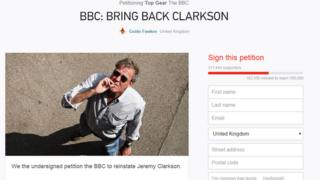 An online petition in support of suspended Top Gear presenter Jeremy Clarkson attracted more than 300,000 signatures as of Wednesday lunchtime - but how does that compare with other campaigns?
Blogger Guido Fawkes posted an appeal on the site change.org after Clarkson was suspended on Tuesday after a "fracas". While the BBC refused to comment further, reports said Clarkson was suspended for "allegedly hitting a producer."
The online petition got a big response and had climbed over 350,000 signatories by just after 1 p.m. UK time Wednesday. By comparison, Clarkson has more than 4.5m followers on Twitter and Top Gear's Facebook page has more than 15m likes. The programme reaches viewers in more than 200 territories and holds a Guinness World Record for most watched factual TV programme in the world.
How does the Clarkson appeal compare to other petitions? Some of the biggest petitions at the moment on Change.org are asking to:
And what about some of the most popular petitions of all time on the site? More than 2.2m people signed a petition to prosecute George Zimmerman in the shooting death of Treyvon Martin, a black teenager shot by a neighbourhood watch volunteer in the US in 2012. And a #BringBackOurGirls petition - related to the disappearance and abduction of schoolgirls in northern Nigeria - attracted more than 1m supporters.
Many of these petitions have been live for some time, whereas the one backing Clarkson has seen tremendous growth in a short time. The story is in the news and numbers are climbing fast - adding tens of thousands just during the writing of this post. So there's no telling how much support the presenter might get online, but he has some way to go to becoming an all-time cause célèbre.
Blog by Mike Wendling
You might be interested in: The princess and the homeless Vogue reader
Or maybe you'd like to watch: The hit Russian propaganda film with Hollywood production values
You can follow BBC Trending on Twitter @BBCtrending, and find us on Facebook. All our stories are at bbc.com/trending.