'Blue Lives Matter' trends after officers shot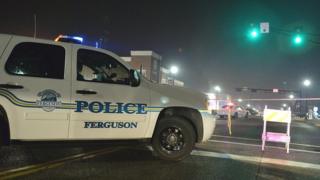 An anti-police violence slogan online has been turned on its head, and with a slight change it's being used in support of two officers shot in Ferguson.
In the hours after two police officers were shot in Ferguson, Missouri, use of the hashtag #BlueLivesMatter spiked on Twitter, driven by self-identified supporters of gun rights and other conservative causes, as well as supporters of the police. The tag was used across the US, not just in Missouri.
Although the overall numbers are relatively low - the tag has so far been used more than 3,000 times since news of the shooting broke - the slogan hit the site's list of top trends in the US because of how quickly it spiked. But the use of "Blue Lives Matter" is not new. In fact it's been bubbling along at a low level for months. It's been used more than 120,000 times since last November, when radio talk show host @BarryGadbois tweeted: "Cops have a right to defend themselves and an obligation to protect you. #BlueLivesMatter #Ferguson".
The tag is a play on the #BlackLivesMatter trend which saw huge numbers of messages after the shooting death of Michael Brown in Ferguson last August and other police shootings around the country - "blue" is a reference to the colour of the uniforms of many American police departments.
As might be expected, many #BlueLivesMatter tweeters have been using the tag to criticise President Obama and US Attorney General Eric Holder, who a week ago issued a blistering report about racial bias in the Ferguson police department. "Holder, B.O., Jesse and Al are you all happy now? You have blood on your hands! Disgusting!" tweeted @PaulChisolm, referring also to the prominent African-American activists Jesse Jackson and Al Sharpton.
"Thank An Officer Today! Let your local police know Obama does NOT speak 4 you," tweeted @AmyMek.
Among the pro-police messages, however, were a scattering of anti-police tweets. "They're victims of the environment THEY created," commented New Yorker @AfiaBlack. "#BlueLivesMatter, of course, but rarely does anyone who shoots a cop go unpunished. Equal justice needs 2 become a thing. #BlackLivesMatter," tweeted @laughingliberal.
Blog by Mike Wendling
Next story: Saudi's 'Julian Assange' returns to Twitter
Or maybe you'd like to watch: Five things we know about #DancingMan
You can follow BBC Trending on Twitter @BBCtrending, and find us on Facebook. All our stories are at bbc.com/trending.