Islamic State go niche on social media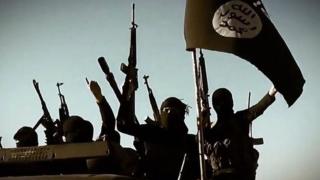 Are Islamic State supporters being chased off mainstream social networks?
Mariusz Zurawek built a social network at his home in Poland over the course of a weekend. He wanted to make posting photos and videos incredibly easy. So his site, justpasteit.com, doesn't require registration or an account. It was an overnight success - and soon Zurawek noticed that he was tapping into a surprising demographic.
"60% of the visitors are from Arabic-speaking countries and that's very unusual for websites in Europe," he told the BBC.
But from early 2014, some of his users started presenting a problem. Videos and images - some very graphic - started to appear on the site from Syria. And eventually, it became clear that the site was being used by militants from Islamic State.
'Hide in the corners'
The use of social media to spread propaganda by IS and their supporters has been a huge concern in the international community's fight against them. IS activity online has been receiving attention both from governments and activist hackers like the Anonymous collective, who targeted a number of allegedly IS-linked social networking accounts last month. British authorities say that as they've concentrated on the major social networking sites, militants are increasingly turning to smaller and less well-known sites.
"We're seeing new platforms popping up and we're contacting them on a weekly basis," a detective with the Metropolitan Police's Counter Terrorism Command (SO15) command told the BBC. "We do see some really good results in that there are certain groups we chase from platform to platform, and we know we've been effective because they will leave a message on a social media platform saying that they are moving somewhere else."
"We're trying to get them away from the mainstream and hide in the corners again," the detective says.
Hiding in the corners means using sites like justpasteit.com. Zurawek says that he was initially proud that people from Syria were choosing to share images on his site. But when Islamic State started using it, and the content got more gruesome - including killings and beheadings - he changed his mind.
"I was really sad when I saw all of these images - some were really graphic, like beheadings and so on. I thought that it was really horrible what was going on," he says.
"I was thinking if I should take [some graphic content] down," he says. "While I was thinking on this the next day the Metropolitan Police asked me if I could take it down because it was connected with Islamic State."
Although the Metropolitan Police have no jurisdiction in Poland, Zurawek says he agreed to follow orders.
"We have remained in constant contact and they are sending requests for removal regularly," he says, estimating that he's removed 2,000 terror-related posts at the request of the Met.
Ungoverned space
"Social media is a way for IS and for al-Qaeda to be in an ungoverned space, as useful for them as parts of Syria or Somalia or Yemen," says Alberto Fernandez, who until recently was the coordinator for the US state department's office of Strategic Counterterrorism Communications - a unit that targets Islamist militants on social media.
"We try to basically follow the adversary in the space where they are," he says. "So if it's Twitter, if it's Facebook, if it's YouTube, if it's Ask.fm, to try to at least have some kind of countervailing or contradictory criticism of some sort … in the space where they are at the moment."
Earlier this week one website in particular caught the attention of the news media. 5elafabook ("khelafa-book") - a Facebook-like network whose name is a reference to the Arabic word "khilafa", or "caliphate" - went live earlier in the week but lasted for only a day online before being shut down and having its Twitter and Facebook accounts suspended.
But according to BBC Monitoring, it is doubtful that the site was sanctioned by IS itself as none of the important IS media operatives have promoted it. This suggests it may have been set up by some low level supporters of IS. But there's also the possibility that it may have been created as a kind of honey trap to identify militants.
Zurawek, the founder of justpasteit.com, says the problems he faces demonstrate how difficult it is to eliminate disturbing content online.
"Anyone can be anonymous on the internet," he says. "Even big companies like Twitter, YouTube and Facebook have a problem with Islamic State and are not entirely empowered to block all their content - it is a problem with the architecture of the internet."
Reporting by Dominic Casciani, Anna Meisel and Samiha Nettikkara
Blog by Mike Wendling
More from BBC Trending: 'Blue Lives Matter' trends after officers shot in Ferguson
Or maybe you'd like to read: Is the online joke on Islamic State?
You can follow BBC Trending on Twitter @BBCtrending, and find us on Facebook. All our stories are at bbc.com/trending.