'I will go to Tunisia': tourists pledge visits after attack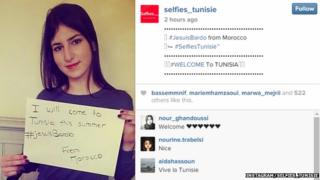 By now, we're used to the online outpouring of emotion in the wake of terror attacks. But Twitter and Instagram users are going one step further after the deadly assault on the Bardo museum in Tunisia - they're publicly pledging to visit the country.
After news broke of the killing of 23 people in a terror attack on a museum in Tunis on Wednesday, Twitter hashtags such as #JeSuisTunisien (17,000 tweets), #PrayForTunisia (13,500) and #JeSuisBardo (9,500) started trending. But some people aren't just expressing solidarity from afar - they're promising to visit this summer.
On Instagram and Twitter, dozens of photos, each with hundreds of likes, are being collected by accounts such as @selfies_tunisie. The photos show users from France, Italy, Morocco, the US and elsewhere holding up placards with their scribbled promises.
The trend is a response to fears that the attacks could hit Tunisia's tourism industry, which had been on the rebound after the upheaval of the Arab Spring drove visitors away. Tourism employs more than 400,000 people in the country, which draws in visitors with its beaches and historic sites.
In the wake of the attacks on Charlie Hebdo magazine in Paris, French officials launched a drive to reassure tourists. That attack, of course, inspired the first "Je Suis ..." rallying cry - and the French for "I am ..." has since been adapted for countless campaigns around the world.
So far, nine people have been arrested in connection with the museum attack. And of course, it remains to be seen whether those pledging to visit Tunisia this summer will actually follow through.
Blog by Mike Wendling
Next story: Do Chinese tourists lack good manners?
Or maybe you'd like to watch: Christian Mercy for Islamic State
You can follow BBC Trending on Twitter @BBCtrending, and find us on Facebook. All our stories are at bbc.com/trending.