Vietnamese push back on Facebook to save Hanoi's trees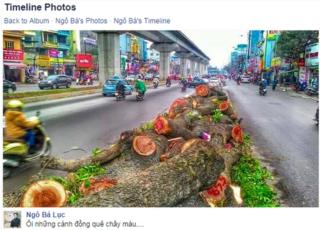 Vietnamese are often wary of talking about politics for fear of running afoul of their communist government - but the garden gloves came off in a fight over Hanoi's beloved trees.
It's sometimes called the "Paris of Asia" on account of its wide boulevards and well-preserved French-influenced architecture. Hanoians are justifiably proud of their city's beauty - which is part of the reason why a government plan to axe hundreds of the city's trees resulted in a huge push back on Facebook.
A Facebook page set up to save the trees quickly garnered more than 50,000 fans. And following a massive outpouring of opposition by celebrities and ordinary people, the government reversed its decision and promised to replace trees that had already been felled.
But the victory was about more than just foliage. Speaking out against the government can earn Vietnamese a jail sentence, and it seems the outpouring over the capital's tree population pointed to a more general sentiment inside the country.
"To be precise it's not only this tree chopping but virtually every policy of the government is being complained about," said one Facebook user. "Many things are short-termish and unreasonable that are not to the people's liking and people have lost trust [in the government]."
Hung Nguyen of BBC Vietnamese says the nature of the campaign - or rather, the fact it was a nature campaign - allowed Hanoians to question their government.
"This is a rare example of civil society in Vietnam," Nguyen says. "Challenging the government or party is still something rare in Vietnam and can land people in jail quite easily. But this issue appears to be non-political which is why it got momentum on Facebook."
Blog by Mike Wendling
Reporting by BBC Vietnamese
Next story: American strawberry festival sparks a race row
Or maybe you'd like to watch: Christian Mercy for Islamic State
You can follow BBC Trending on Twitter @BBCtrending, and find us on Facebook. All our stories are at bbc.com/trending.