Can a hug help people trust Aboriginals?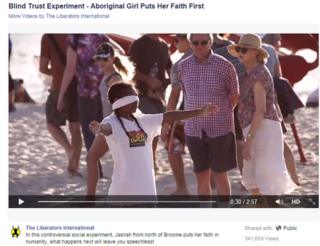 The latest version of a "blind trust experiment" - where video subjects place themselves at the mercy of the general public - has been viewed thousands of times while highlighting discrimination against Aboriginals in Australia.
With a determined, solemn look, the girl walks onto a crowded beach in Australia and dons a blindfold. At her feet she places a sign: "I trust you. Do you trust me? Let's hug." It takes some time, but soon strangers start embracing her. The resulting footage has been viewed more than 300,000 times on Facebook.
The idea was the brainchild of filmmaker Peter Sharp, and while it's not his first viral hit, the tone is different from other videos he's produced, which involve hijacking public sound systems and throwing parties on trains.
"We are always told not to trust people we don't know and I want to challenge that idea," Sharp told BBC Trending. He says he was inspired by a recent poll which showed that a fifth of Australians think it's okay to discriminate against the Aboriginal population.
There was little hint of divisiveness, however, in the messages under the video on Facebook.
"What else could we all achieve with that much courage?" commented Justin Paul. Another user said: "That brought tears to my eyes."
Sharp says the video's success wasn't guaranteed - and that he had a crew standing by to watch over the young subject, Jasirah Bin Hatim, and start the hugging off if needed. "But we waited to see what the true reaction would be," he says, and after five long minutes the hugging started spontaneously.
Although this is a particularly viral example, the idea of a "trust hug" is nothing new. Youtubers in many countries have taken to the streets in search for hugs from complete strangers. In one recent video, a bearded Muslim man walked the streets of Toronto looking for embraces from strangers - it's been viewed 2m times.
Blog by Sana Uqba
Next story: Do Chinese tourists lack good manners?
Or maybe you'd like to watch: Christian Mercy for Islamic State
You can follow BBC Trending on Twitter @BBCtrending, and find us on Facebook. All our stories are at bbc.com/trending.