Twitter users attack 'sell-out' black celebrities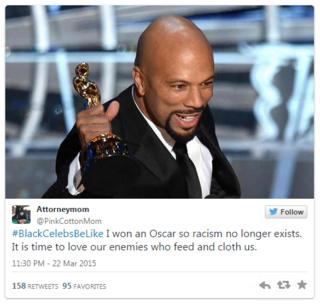 Hugely popular black American celebrities are at the receiving end of criticism by black Twitter users using the hashtag #BlackCelebsBeLike.
"Racism was an issue for hundreds of years. Then I got money. I think it's all good now." That's just one sarcastic tweet out of more than 13,000 in the past 24 hours shared under the tag #BlackCelebsBeLike.
"We all the same ... There's no racism with the Internet," one tweet read. Another asked: "How can I complain about racism in Hollywood when we have a Black president?"
Most of the tweets were meant to be heavily ironic and came from African-Americans, attacking the supposed stances of celebrities on everything from interracial relationships to income inequality. The prevailing sentiment was that many famous people turn their back on black causes - in other words, that they get rich and sell out.
"Racism is over," one user tweeted. "All you need is money and a new tax bracket to be accepted."
One popular target was actor and rapper Common, who won an Oscar for his song "Glory" in the film Selma - a movie in which he also played civil rights leader James Bevel. Appearing on the Daily Show on US television earlier this month he urged black Americans to "forget about the past" when it comes to race relations. BBC Trending tweeted to ask him for comment, but he didn't respond.
Others referenced recent remarks by entertainer Raven-Symoné who seemed to defend a remark comparing Michelle Obama to an ape on another American TV show, and actor Terrance Howard who said he was relaxed about white people using the n-word.
One of the first and most influential users of the tag was Zellie Imani, an activist and blogger behind the website Black Culture. "The goal really was to challenge the pedestal we sometimes put celebrities on and not to allow media to use them as spokespersons for [all] black people," he tells BBC Trending via email.
Imani mentioned the remarks by Common and Howard. "I was surprised that the hashtag took off so fast but i wasn't surprised at how many people felt about the issue," he says. "Celebrities experience racism and discrimination even when they are in denial of its existence. Denying racism doesn't make it exist any less."
Blog by Mike Wendling
Next story: Why did this journalist lose her job?
Or maybe you'd like to watch: Comedy music video fans 'natural hair' debate
You can follow BBC Trending on Twitter @BBCtrending, and find us on Facebook. All our stories are at bbc.com/trending.