Fake Germanwings pictures circulate online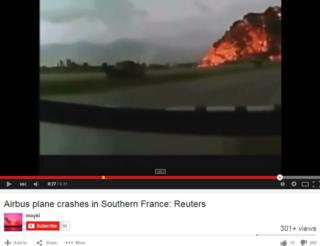 A video and a picture purporting to show a Germanwings flight which went down in the French Alps are circulating online - but they're recycled from previous crashes.
As fakes go, it's not actually very good. The footage shows a line of vehicles driving down the road, and a plane wobbling, falling to the ground and exploding in a fireball. The scene doesn't take place in a mountainous or remote region and the airplane isn't painted in Germanwings' yellow and maroon colours.
But that didn't stop dozens of Twitter users circulating it online describing it as footage of Tuesday's crash of flight 4U 9525. The video is actually of a 2013 crash in Afghanistan, according to online news agency Storyful which dug up the original footage. Another widely circulated photo claiming to be of the plane is actually of a crash in Turkey in 2007.
Hashtags and links related to the crash - including #Germanwings, #4U9525 and #Barcelonnette (a town near the crash site) - quickly trended on Reddit, Twitter and other sites shortly after the news broke. Germanwings and its parent company Lufthansa turned their logos grey on social media accounts in response.
Blog by Mike Wendling
Next story: Twitter users call out 'sell-out' black entertainers
See also:The fake 'MH370 search' video that went viral
Or maybe you'd like to watch: Are #GazaUnderAttack images accurate?
You can follow BBC Trending on Twitter @BBCtrending, and find us on Facebook. All our stories are at bbc.com/trending.