'Gangster Ed': Miliband Vine takes off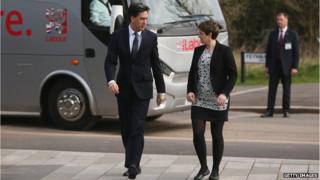 Ed Miliband is trending on social media, but not in the way that those opposing him want - and also not quite in the way that Labour has been planning. Instead he's been remixed as a grime music star.
Ed Miliband has been trending on social media today. Comments from the former Labour Prime Minister Tony Blair that Ed Miliband "showed real leadership" and that David Cameron's plans for a referendum on Britain's future in the EU threaten the UK's position as a "great global nation" trended across the UK this morning. Conservative commentators were quick to point out the divisions between the men. Some tried to shape the social media trend: over the weekend, David Cameron had been photographed feeding a lamb and eating a hot dog at a barbeque , while Ed Miliband had attended less visible events in his constituency, prompting some to question the Labour leader's whereabouts. "Has anyone seen Ed?" asked Guido Fawkes writer Harry Cole on Twitter, including a photo-shopped Where's Wally? poster for good measure. The Spectator's Toby Young attempted to get the #wheresmili hashtag trending, asking "No sign of @Ed_Miliband over the past 48 hours. Holed up with his $15,000-a-day American debate coach?"
It didn't really take off - it was only re-tweeted 40 times, despite the fact that Young is followed by more than 42,000 people and that one of those re-tweets came from the Conservative Party Press Office account. A Labour party spokesperson told BBC Trending that Miliband is campaigning in Bristol and Swindon today and that he was also out and about over the bank holiday weekend.
But here's the twist: hundreds of thousands on social media are in fact sharing Miliband-related material, but it's something else entirely. As many people return back to work after the Easter weekend a six-second Vine video has created a stir.
The short film by 19-year-old Liverpool supporter Manvir Bains has been looped more than 600,000 times - it intercuts British grime artist Skepta with a short clip of Miliband saying "that's not me" in last week's Leaders Debate.
BBC Trending spoke to Bains who said he was surprised at how popular his Vine had become. "I started watching the leader's debates because some of my friends were talking about it on social media and so I turned it on," he said. "I heard Ed Miliband say 'that's not me' which reminded me of a grime song by one of my favourite artists, Skepta. I decided to put his words into Skepta's song as I thought it would be funny, and many other people found it funny too, which is great."
"I support the Labour party and will be voting for Labour in the elections, but I wouldn't really consider myself as someone who is very interested in general politics."
"It's very nice to know that people have enjoyed something I have made and it has made them laugh or made their day better," he added.
Updated 7 April at 16:47 with comments from Manvir Bains.
Reporting by Hannah Henderson
Next story: Dancers perform on the subway despite the threat of arrest
You might also enjoy reading: David Cameron's 'thug life' on YouTube
You can follow BBC Trending on Twitter @BBCtrending, and find us on Facebook. All our stories are at bbc.com/trending.