'I'm with stupid' moment for Ecuador's leader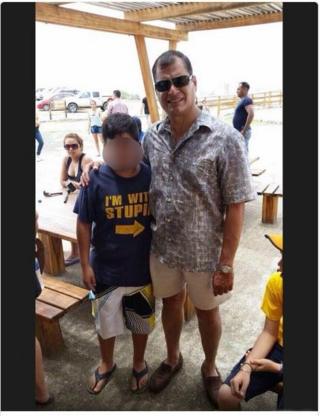 What politician could say no to a little boy who asks for a picture?
Unfortunately for one South American leader, he didn't take a closer look at the child's T-shirt before the photo was taken. A casually dressed Rafael Correa managed half a grin as he looped an arm around his young supporter. But the boy's T-shirt had "I'm with stupid" printed on it in English - and an arrow which in the picture is pointing directly at the Ecuadorian president.
After the picture - shown above - was posted online, "#IAmWithStupidMashi" quickly became one of Ecuador's top trends (Correa uses the Twitter handle @MashiRafael). And of course the president attracted plenty of mocking comments - perhaps not surprising for a leader who, as we've reported before, hasn't been afraid to confront his online critics.
"Spy kid from CIA tries to destabilise government, this would make a great headline," one person commented on Twitter. Others dreamed up captions with fictional quotes from the president, for example: "Let's see what happens when the boy asks for a place at school."
After the photo was posted on a satirical Ecuadorian Facebook page, a message appeared purportedly from the boy's mother, asking it to be taken down and saying that the child had meant no offence - he didn't know what the T-shirt meant.
The president also has many supporters on social media, and they quickly rallied to his defence. Later on Wednesday, the hashtag #WeAreWithYouMashi started trending on Twitter in Ecuador.
Reporting by Gabriela Torres
Next story: 'Gangster Ed': Miliband Vine takes off
You might also want to read: Ecuador President Rafael Correa's troll warfare
You can follow BBC Trending on Twitter @BBCtrending, and find us on Facebook.