The women making a song and dance about farming in Norway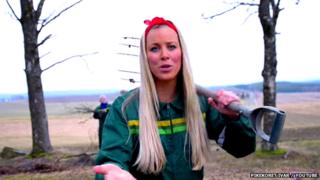 A song about farming in Norway has become a surprise hit on YouTube - but it's not just about the female choir and a wholesome rural idyll. Instead it's part of an intense debate online about the future of agriculture in the country.
Perched on bales of hay and wearing green overalls, a group of young women sing a song praising farmers. The women are university students and members of a choir called Pikekoret IVAR. Their song entitled "Norway Needs the Farmer" has been viewed more than 163,000 times. They drive tractors, feed cows and eat hamburgers. It seems light hearted - but there's a clear political message.
They do dance routines with shovels and rakes in hand while singing: "Several generations have looked after the farm, but government reforms destroy the norms. Could we have a new government in this country please?"
In one scene, as soon as the women in the choir see a character which resembles the country's Minister for Agriculture, Sylvi Listhaug, they down tools and chase her around a field. "Long live the farmer! Listhaug you can just give up." they sing.
Minister Listhaug is part of a government that wants to make fundamental changes to the way farms are run, including lowering payments to farmers, who in Norway receive one of the highest levels of subsidy in the world (according to the OECD). The government also wants to scrap a long-standing law which makes it a duty to live on the farm, to change inheritance laws around farms and also change how farm land is sold. The changes potentially pave the way for larger farms and more efficient food production, which the government says will reduce Norway's notoriously high food prices.
But the women behind the hit song oppose the changes. "We don't want big farms. It's not good for the animals or the environment," says Gina Marie Qvale, who grew up on a farm and helped write the lyrics to the song, which are clearly in support of small farmers and against cheaper, imported food. Qvale says "the idea of the song is to give a boost to farmers."
"Yes, food prices are high here," she acknowledges. "But people's salaries are also high."
A spokesperson for the minister told BBC Trending "the video is one of several political statements being made before the upcoming annual agricultural agreement negotiations. The Ministry has no comment to make about the video."
Pikekoret IVAR says they aren't linked to any farming lobby groups, and that the video was filmed and edited by a friend as part of an end-of-the-year variety concert. "The reaction has been insane," says Helen Meltzer of the group. "We've had a lot of good feedback. Most people think it's a cute and fun video."
Reporting by Anne-Marie Tomchak
(Images courtesy of Pikekoret IVAR and Sindre Nyborg)
Next story: George Galloway's accusations over opponent's forced marriage
Or watch: The disappeared in Mexico
You can follow BBC Trending on Twitter @BBCtrending, and find us on Facebook. You can even vote for us - we've been nominated for a Webby Award.