Is this cat moving up or down the stairs?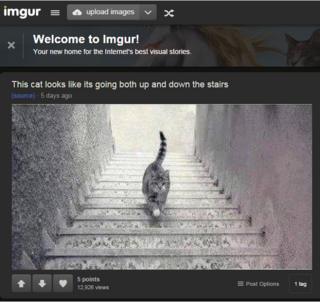 People love optical illusions on the internet - and now some are asking of this picture is the next "golden dress" .
Is this cat moving up or down the stairs? That's the question people are asking about this black and white image of a cat on a staircase. An unknown person seems to have uploaded it to the image sharing site Imgur five days ago, where it's had 13,000 views, and it is currently trending on the website 9gag.com as thousands debate the image, and ask whether it's in any way comparable to the now infamous "golden dress". However it appears to have had earlier online incarnations, for example this 2013 post from the Tehran 98 site.
For those who don't keep a close eye the history of all optical illusions that go viral, here's a reminder of "that" dress - the garment that some people thought was blue and black and others said was white and gold.
It sparked a media frenzy in February, when Buzzfeed wrote an article highlighting the online debate about the colour. In the direct aftermath of publication 20 million people shared Buzzfeed's piece about #TheDress and international media, including us, reported on how viral it went.
(BBC Trending's view on whether the cat's walking up or down - note the direction of the brickwork on the walls).
What do you think? Tweet us @BBCtrending, and find us on Facebook.
Next story: The women making a song and dance about farming in Norway
What about: George Galloway's accusations over opponent's forced marriage.
You can follow BBC Trending on Twitter @BBCtrending, and find us on Facebook. You can even vote for us - we've been nominated for a Webby Award.