Why "Save the Internet" is trending in India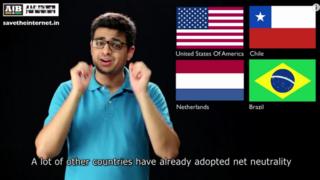 India's biggest online retailers are now starting to respond to the anger of hundreds of thousands of Indians who have emailed the government in the past 72 hours, in defence of their right to access all websites equally.
It all started with a sketch being posted on YouTube, which as well as being funny was also video is a staunch defence of the idea of net neutrality. That's a technical term that few people understand, but before you fall asleep, we should mention that it was made by the controversial Indian comedy troupe AIB, who instead of mocking elections or crudely roasting celebrities, have chosen to aim their comic barbs at internet regulators. The result? More than 1.5m views in three days, the hashtag #savetheinternet hitting the list of Twitter's top trends and a flood of emails to the Telecom Regulatory Authority of India (TRAI).
The comedians manage to weave in jokes about freeloading friends, cat GIFs, rip-off amusement parks and embarrassing browsing habits while at the same time discussing a document with the catchy name "Regulatory Framework for Over-the-Top (OTT) Services."
So what is net neutrality and why does it matter? In the comedians' words: "Let's be honest, the only thing worse than no internet ... is slow internet." They argue that changing the rules on net neutrality would allow companies to pay for higher internet speeds on their sites, which could slow down other websites and ultimately allow big telecommunications companies to dominate the market. "You should be able to access any website you want at the same speed no matter what operator you're with."
At its most basic, net neutrality - and this is the technical bit - is a rule that says all online traffic should be treated the same by internet service providers. It's an idea that some say is fundamental to freedom on the internet, because unless it's protected, consumers could be charged extra to access different services or websites. However, others say that it's wrong to see this as a David vs Goliath struggle, and many big internet companies favour net neutrality. (If you're interested in more detail, the BBC has a good primer on the issues here).
India's government is currently running a consultation about net neutrality, but the discussion probably would have remained the preserve of a relatively few dedicated techies had the comedians not waded into the debate. Almost immediately after the video was released over the weekend, mentions of the campaign shot up on Twitter and the video quickly spread on Facebook.
In their video, AIB sarcastically suggests that the regulators have been less than open about soliciting public opinion. "To be fair, TRAI has been very helpful and put the issue up on their website," the say. "In a 118-page long consultation paper in size 10 font, sandwiched between three other links while five other images violently distract you."
Crucially, the video includes a link to a website, savetheinternet.in, which gives users an easy way to email TRAI with a contribution to the consultation - and the people behind the campaign estimate that at least 200,000 emails have been sent.
"We expected maybe 15,000 submissions over a week. We're honestly blown away by what has happened," says Kiran Jonnalagadda, one of the organisers of Vote for Net Neutrality campaign. "AIB came on board for this campaign. Their video made all the difference. No doubt about it." Jonnalagadda, the founder of a networking site for programmers, says the group includes nearly 50 journalists, lawyers, programmers, entertainers and activists.
The campaigners have also got some support from Indian internet companies. On Tuesday online retailer Flipkart announced it would pull out of talks with phone company Airtel over "Airtel Zero" - a project that activists say would violate net neutrality. A statement from the Flipkart declared: "We will be committing ourselves to the larger cause of net neutrality in India."
BBC Trending tried to contact the regulators, TRAI, but they didn't respond to our requests for comment.
Blog by Anne-Marie Tomchak and Mike Wendling
If you like stories like this from BBC Trending, take a second to vote for us - we've been nominated for a Webby Award. You can follow us on Twitter @BBCtrending, and find us on Facebook.
Next story: The challenge of using public loos
You might also enjoy: The Indian headshake, decoded