The Indian women who are pledging to wear saris all year long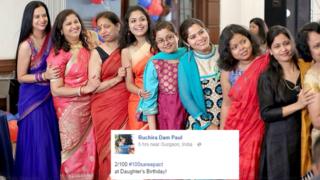 A pledge between two female friends to wear saris more often has caught on - and now women across India are posting pictures of themselves wearing the traditional dress on Facebook and Twitter.
Two friends in the south Indian city of Bengaluru were lamenting the fact that although they loved wearing saris - the flowing, intricately wrapped piece of cloth that's probably the most well-known example of South Asian women's clothing - they rarely wore them anymore, instead favouring more practical clothing like jeans and dresses.
So at the beginning of March, entrepreneurs Ally Matthan and Anju Maudgal Kadam pledged to wear saris twice a week - or 100 times in a year. Their vow became the hashtag #100SareePact, and it wasn't long before other Indian women were joining in and posting their own photos on Facebook and Twitter.
"Every sari has a memory based on an occasion, emotion or relationship," says Kadam. "When you wear a sari, you have a sari glow, like a birthday glow."
She says they're not organising a campaign along the lines of the Gulabi Gang - a pink sari brigade who became an anti-corruption force. Nor are they worried the sari will forever disappear from the streets of India. Their challenge is more of a celebration of a style and an excuse to break out colourful garments more often.
"#100SareePact is not a political statement to reclaim a way to dress, because the sari never went away from the Indian psyche," Kadam told BBC Trending.
Many of the women posting pictures have also noted the stories behind the garments they're wearing.
"During my initial working days at HP I happened to buy quite a few of these beauties," wrote Vidya Ramamurthy, who posted two pictures of her in a black-and-gold sari. "The fact that I bought this from my own money stands apart in my mind always."
"This saree is very special because my 6-yr-old son, Aryan selected it when his baby brother, Samarth, was born last year," said Smita Tripathi, who donned a red, blue and yellow one.
The two friends are gathering stories for a website celebrating saris and are encouraging women to email them with the tales behind their garments.
Reporting by Anisa Subedar
Blog by Mike Wendling
Next story: Is it wrong to call someone "plus-sized"?
You can follow BBC Trending on Twitter @BBCtrending, and find us on Facebook. You can even vote for us - we've been nominated for a Webby Award.