An act of culinary kindness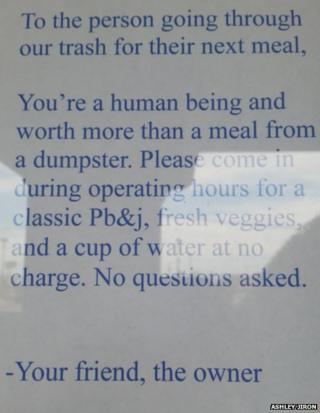 A restaurant owner's gesture of kindness has spread wildly on social media.
After noticing that someone had been rummaging through the rubbish outside her restaurant one morning, Ashley Jiron decided to post a note on her skip (or in American parlance, "dumpster") letting the person know that if they were hungry, they should simply come inside for a free meal.
"You're a human being worth more than a meal from a dumpster," the note reads, and invites the person to come into the restaurant, J.B. Jams, for a sandwich, vegetables and water free of charge. After someone took a picture of the note, and posted it on Facebook and Instagram, it received thousands of likes and attention from around the world.
Seeing that one person was so desperate for food "made my heart sink," Jiron tells BBC Trending. "I thought the letter was going to feed that one person, but now hopefully I can help more."
That's because Jiron has used the attention to start a crowdfeeding campaign with the hashtag #sharethenuts, named for the peanut butter and jelly sandwiches sold at her restaurant.
People can pay for an item on the restaurant's the menu and designate it for someone seeking a free meal, or give a donation through GoFundMe. Jiron tells BBC Radio 5 live that she now has enough contributions to feed more than 600 people. She says the proceeds will be donated to local shelters to help the homeless if she cannot prepare all the food herself.
While the restaurant has only been in operation since 19 January, Jiron plans to make #sharethenuts a lasting part of the P.B. Jams business. She tells BBC Trending that the act was rooted in her own personal hard times - at times she was so short of cash she couldn't pay her electricity bill.
"I have had times when my daughters and I went home to a dark home. Friends were kind enough to let me stay with them until I paid the bill.
"Sometimes we didn't have enough left on our benefits at the end of the month and we had to buy a loaf of bread and some peanut butter from the dollar store," she says. "I am thankful to the state for allowing me to feed my children when I needed it most."
As for the original person who was hunting through the skip - they've yet to come forward to claim their free meal.
Blog by Savannah Stephens
Next story: Pledging to wear saris all year long
You can follow BBC Trending on Twitter @BBCtrending, and find us on Facebook. You can even vote for us - we've been nominated for a Webby Award.