What does classic art look like without the gluten?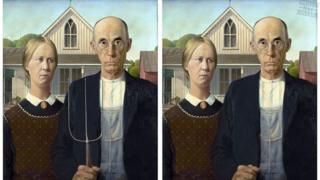 Inside the online Gluten Free Museum are images of classic works of art with all of the wheat-containing products deftly airbrushed.
Studies suggest that in Britain as much as 1% of the population has coeliac disease - a disorder triggered by gluten that can cause serious problems. Others have conditions such as gluten intolerance. But wheatless diets have also caught on among others, including celebrities - sales of gluten-free products rose 15% last year. Because of this some have, controversially, questioned whether "wheat free" is just a fad.
That's where the Gluten Free Museum, a Tumblr blog, comes in. When the museum first started gathering attention earlier this month, some interpreted it as a poke at the popularity of gluten-free diets. "Someone finally found the perfect way to make fun of the gluten-free movement," read the Washington Post's headline. Others - more than slightly tongue-in-cheek - praised the curator for making history safe for those shunning bread. "It's art, minus the gluten. Finally," said the Huffington Post.
But the French blogger who created the museum says he had no grand dietary message. "It is a joke," Arthur Coulet told BBC Trending. Coulet is a 26-year-old graphic artist who lives in Paris where he teaches photo manipulation. Here he describes some of his favourite wheat-free creations.
---
'Le Petit Parisien'
"This image by Willy Ronis was suggested by my friend Celine," Coulet says. "He is a great photographer and I wanted to give him importance in my museum."
Coulet says he had no intention of remaining anonymous; he simply decided not to put his name on the blog, which he describes as a "détournement". French for "rerouting" or "hijacking", it's a type of artwork manipulation that grew out of the French radical Situationist movement. Coulet says he keeps things simple and only posts the images and the name of the artist "because less is more!"
---
Chardin still life
"Jean Siméon Chardin reminds me of the years when I worked as a guard in the Louvre to earn money for my studies," he says.
The idea of a Gluten Free Museum first came after he saw gluten-free advertisements. "Our civilization is based on wheat. There is a link between culture and agriculture," he says.
---
'The Milkmaid'
"Everyone has seen Vermeer's 'Milkmaid', but who really looks at the bread on the table? This is a new way to look at well-known artworks and discover others."
Coulet, who does eat bread, says his approach is meant to sidestep the science. "This is a serious matter, that's why I've decided to bring lightness and pleasure with art," he says.
---
Guinness advert
"The Guinness poster is a tribute to my friend Lolo, who made me discover the better pubs in Paris," Coulet says. "I have people in my entourage who can't eat gluten for health reasons. I've showed them the blog and they laughed." In addition to wheat, gluten is found in related grains such as barley, which puts most beers on the forbidden list for gluten allergy sufferers.
---
Disney's Lady and the Tramp
"This was a movie that I loved when I was a child," Coulet says. "This scene with the Italian restaurant is magical." The Gluten Free Museum has been shared thousands of times on Facebook and Twitter. "Trends can be a way to see great art," Coulet says.
Blog by Gabriela Torres
Next story: The striking wedding photographs that captivated China
Or maybe you'd like to read: An act of culinary kindness
You can follow BBC Trending on Twitter @BBCtrending, and find us on Facebook. You can even vote for us - we've been nominated for a Webby Award.