Nick Clegg accused of following 'gangsta' fashion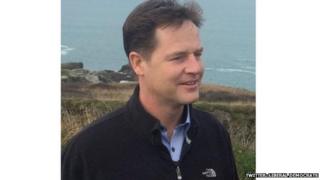 An innocent clothing choice has led some to accuse Nick Clegg of following "gangsta" fashion.
Nick Clegg's decision to wear an outdoorsy jacket on his Twitter profile is causing quite a stir on social media. It all began when a Twitter user who calls herself Ellie posted a blown-up version of Nick Clegg's profile pic with the comment: "Clegg you absolute roadman". She then added, somewhat more cryptically: "Nick Clegg, more like Yung Clegg, am i rite?" The comment was shared or favourited more than 2,500 times, and others joined in the joke.
For those who, like us at BBC Trending when we first read these tweets, have no idea what this means - well, it's all to do with the jacket he chose to wear. There's a stereotype that comes from northern English cities that people who wear hard-wearing outdoors coats - particularly those where the hood covers a person's face - have "gangsta" ties or other nefarious connections.
The description, we're told by those better informed than we are on urban style, applies to outdoors brands such as North Face (which Clegg was wearing) and others. But given that people such as Angelina Jolie and US President Barack Obama are often seen wearing the same brand, it would appear that this definition is definitely something pretty specific to the north of England.
The Liberal Democrats jokingly told BBC Trending: "Nick's a big fan of his North Face jacket. Perhaps now isn't the time to tell you he's also got two mobile phones."
---
If you like BBC Trending's reporting, please vote for us - we've been nominated for a Webby Award.
---
A "roadman" in slang describes someone who thoroughly knows his local area, and is good to tap up for all the latest information about where the best parties are, or someone who is on the road a lot, like a truck driver. When Twitter users describe someone as "Yung" they can mean that someone is very cool, which is why rappers sometimes prefix their names with it. (It has to be said that none of these are phrases which are commonly associated with the leader of the Liberal Democrats).
Comments on clothing and appearance have long been directed at female figures in the public eye. But social media comments on Nick Clegg's clothing are just the latest in an election campaign where male politicians' clothing has received widespread attention. In the opening weeks of the campaign many pointed out that Ed Miliband, David Cameron and Clegg were all wearing the same blue shirt and blue jumper. Nigel Farage's tan-coloured coat also drew a lot of attention, with many asking where they could purchase similar attire.
Discussion about female party leaders' clothing has continued online and has also proved divisive . Nicola Sturgeon has been caught up in a black and gold-style dress discussion, after the outfit she wore in a televised BBC debate appeared to change colour. Two newspapers published the same photo of her but with different coloured dresses. A report on Nicola Sturgeon's fashion "transformation" led many on Twitter to question why what she wore was relevant to her abilities as a politician.
Blog by Hannah Henderson
Next story:What does classic art look like without the gluten?
If you like BBC Trending's reporting, please do vote for us - we've been nominated for a Webby Award.