Rescue mission plea eclipses Katie Hopkins petition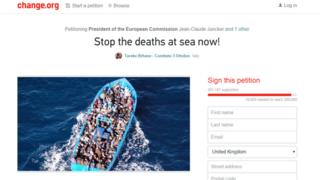 A campaign calling for a rescue mission for migrants crossing the Mediterranean has eclipsed the push to oust newspaper columnist Katie Hopkins on a popular online petition site.
On Tuesday, Trending reported on the petition calling for The Sun newspaper to sack columnist Katie Hopkins for her comments about migrants. More than 250,000 people had put their names to that cause, and we noted that another petition - this one calling for an emergency EU mission to the Mediterranean - was only receiving a fraction of the support.
The tables have now turned. Tareke Brahne's call to "Stop the deaths at sea now!" eclipsed the anti-Hopkins petition early Wednesday UK time and had more than 280,000 supporters as of writing. Brahne, a migrant from Eritrea now living in Italy, is caling on the European Union to "restore a robust operation of search and rescue at sea."
Blog by Mike Wendling
If you like BBC Trending's reporting, please vote for us - we've been nominated for a Webby Award.
Next story: What the story behind the video of the small girl with the big gun?