China buzzing over president's first 'selfie'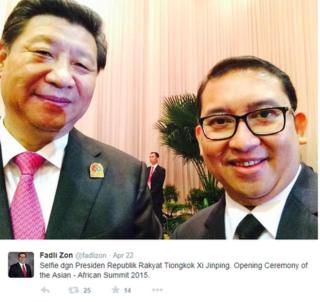 Chinese internet users are buzzing about their president's first "selfie" - even though it appears that like Xi Jinping didn't actually take the photo himself.
It seems an odd omission for someone who's been called China's "first social media president", but before this week Xi Jinping had never done what millions of smartphone users do every day: pointed a camera at his own face. So when an Indonesian politician grabbed Xi for a photo, Chinese social media users went crazy.
The photo was posted on Wednesday by Fadli Zon of the Great Indonesia Movement Party - it was one of a series with world leaders including Robert Mugabe of Zimbabwe and King Abdullah of Jordan, all of whom were attending the Asian-African Summit in Jakarta.
As the pic was initially posted on Fadli Zon's own Twitter account - the Indonesian politician is grinning while Xi has the bemused look of someone tolerating a quick snap - it seems pretty clear that it wasn't technically a "selfie." But that little fact didn't stop Chinese media from reporting on it - and Chinese internet users from responding in kind.
---
More from BBC Trending:
The Tibetan couple that won Chinese hearts
Chinese crush on London's commuters
---
Once the picture made its way onto weibo (the Twitter-like microblogging services popular in China because Twitter is blocked there), it was shared more than 30,000 times.
"Xi Dada, I love you!" one user swooned, using an affectionate term for the president. "So handsome!" said another. "Xi Dada has such a kind smile." An account run by one popular technology magazine predicted: "We expect 'selfie' will become a 2015 buzzword."
Xi's more personal approach to public relations contrasts with his predecessors, and the selfie story certainly fits with his "man of the people" image - remember the photo of the leader paying for his own dumplings at a Beijing restaurant that caused a media storm? But social media isn't uniformly kind about the Chinese leader. Last October, Trending reported on how one photo of him became a meme during protests in Hong Kong.
Reporting by Kerry Allen
Blog by Mike Wendling
Next story: A tale of two Camerons: Dallas v David
Follow BBC Trending on Twitter @BBCtrending, and find us on Facebook.