Fake quakes: rumours spread after Nepal tragedy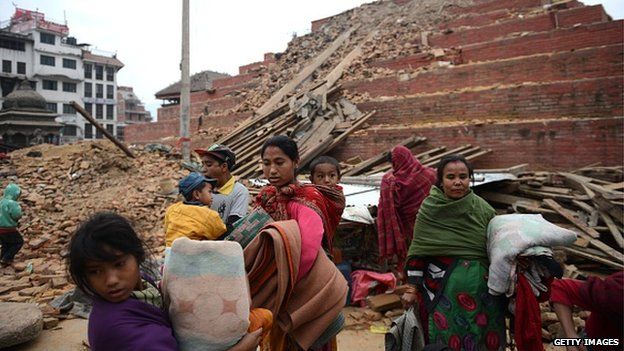 In the midst of the tragedy, some of what's spreading online about the Nepal earthquake is false.
One of the biggest: On Facebook and YouTube, various versions of a video were erroneously described as closed-circuit television footage from a Kathmandu hotel. They show an earthquake causing violent waves in a swimming pool. The video was picked up by internationalmedia - including one of the BBC's main news bulletins - and has been viewed more than 5m times. However it's not from Nepal - it appears to have been taken during an earthquake in Mexico, in April 2010. (The time stamp was scrubbed and the video was flipped horizontally in the fake Nepal version.)
Another "Nepal earthquake" video uploaded online also included footage from a building collapse in Egypt. A photograph showing schoolchildren huddled under desks in a classroom was also taken during an earthquake drill in 2013.
BBC Trending has not yet established who first shared these videos or why.
In neighbouring India where the earthquake has killed at least 58, rumours have been going viral on WhatsApp and Facebook.
A message falsely attributed to NASA and the Indian government warned of earthquakes of higher intensity at specified times and spread panic. In Patna, the capital of Bihar state which reported the most earthquake-related casualties in India, worried people came out on the streets.
Edited photographs also circulated online showing damage to an apartment building and a college in other cities.
The rumours about earthquakes have spread to such an extent that the issue was raised in India's parliament. "Many comments come on social media that earthquake is going to happen at this hour. We should adopt restraint and not spread rumours on social media. I also appeal to people not to pay attention to such rumours being spread on social media," said communications and IT minister Ravi Shankar Prasad.
Unfortunately, the spread of false information online during disasters is not new. Recently, Trending reported about the fake pictures circulating online after the Germanwings crash.
This time the online rumour mill even took in the supernatural. One widely-shared message on WhatsApp said the moon had turned "upside-down" after the earthquake and showed before and after images.
Have you come across any fake images or videos related to the quake? Get in touch with @BBCTrending.