The amateur photographer capturing the story of the #BaltimoreRiots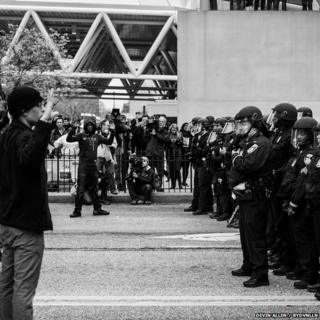 An amateur photographer has been scooping the international media with his photographs from the front lines of protests and riots in Baltimore.
The death of a black man fatally injured in police custody has sparked both peaceful protests and violent riots in Baltimore. Twenty-five-year-old Freddie Gray died on 19 April - there's more about what we know of his case here. The disturbances prompted the governor of the state of Maryland to declare a state of emergency in the city. A week-long curfew has been announced and as many as 5,000 National Guard troops could be deployed.
Hashtags such as #BaltimoreRiots and #BlackLivesMatter trended this week, but one of the most-shared pictures wasn't taken by a local newspaper or by one of the legions of photojournalists based in Washington, just an hour away. Instead this photo by 26-year-old Baltimore native Devin Allen, has been retweeted more than 5,000 times:
Allen posts his photos on his Instagram and Twitter accounts - and many social media users were quick to point out the similarities between his mostly black-and-white snaps and photos of US civil rights demonstrations in the 1960s. He talked to BBC Trending about how he's working (without pay) to capture the dramatic story unfolding in his home city.
Blog by Mike Wendling
Next story: How to be poor: a young girl's Facebook guide
Follow BBC Trending on Twitter @BBCtrending, and find us on Facebook.