Election 2015: How celebrities and politics haven't quite mixed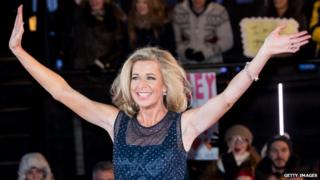 With a week to go until polling, enter the celebs. Actors, comedians and reality stars are weighing in on the general election.
Celebrities have always been asked to add their own sprinkle of stardust to British politics, but their involvement in this election is being spun by the internet in a very different way to that which the politicians intended.
Here are five celebrity moments on UK social media we've noticed over the past month of campaigning.
Katie Hopkins 'leave the country' posters
The former Apprentice star and Sun columnist said she would "leave the country" if Ed Miliband was made Prime Minister - inspiring Twitter memes from Miliband supporters promising to "get rid of Katie" if Labour came to power.
Cambridge University's Labour Club took it one step further by actually printing their best meme and posting it on buildings across the city. The real life poster circled back around to social media as a photograph of one the posters was shared more than 1,000 times.
David Cameron and the stars
Hopkins was also at the centre of another social media joke, involving a picture of her standing next to David Cameron. In the past 24 hours alone it has been retweeted more than 3,000 times.
The Conservative Party has attempted to distance its campaign from Hopkins despite her very vocal support for the party. As BBC Trending has previously reported, more than 300,000 people have signed a petition calling for Hopkins to be removed as a Sun columnist after readers were offended by a piece she wrote on Mediterranean migrants - in particular, her use of the term "cockroach" caused widespread outrage online.
She told BBC Trending she "wrote without any thought to the historical context" (among other things, the word "cockroach" was used by Nazis to describe Polish Jews) but stopped well short of an apology, restating her controversial view of the drastic action needed to curb immigration, including "burning boats."
Opponents of the Conservatives, meanwhile, have continued to spread the Cameron-Hopkins picture. Labour supporters used it after the Prime Minister criticised Mr Miliband for agreeing to be interviewed by Russell Brand - Mr Cameron was quoted as saying he didn't have time to "hang out" with the celebrity. SNP supporters also shared the image after Nicola Sturgeon claimed Mr Cameron had refused to to sit next to her on the Andrew Marr Show's sofa.
#Milibrand
Meanwhile, supporters of the Conservatives have mocked Ed Miliband for a very different reason. The Labour leader's decision to be interviewed by Russell Brand generated several comments after a photograph of him leaving the controversial non-voting comedian's house trended online. A short trailer to promote the interview was viewed more than 200,000 times as the hashtag #Milibrand trended, used both by Miliband supporters and opponents.
The commentator Guido Fawkes described the film like so: "Russell claims he's an ordinary person as the two millionaires discuss inequality." The Times journalist Hugo Rifkin tweeted: "That was like the Phantom Menace. You wait for ages, and then you're bored stupid by halfway through."
It wasn't all criticism, though: The Guardian's Owen Jones praised Mr Miliband for reaching out to the "disenfranchised underclass" that Brand claims to represent.
BBC Technology Correspondent Rory Cellan-Jones wondered if the video heralded "the real start of the social media election" and the BBC also had a full roundup of Twitter reaction.
Comments under the YouTube film show that ordinary voters were also divided on the merits of the interview. "Say what you want about Miliband ... At least he's got the bottle to do this. Cameron wouldn't dare. Brand would eat him alive," wrote one user. But another shot back: "Cameron is too busy running the country and trying to get people back to work to be chasing clowns like Brand around. And no I think if he can deal with [Jeremy Paxman] he can deal with Brand who has a mental age of about 12."
---
BBC News Timeliner: Star turns
For a quick history of how celebrities have attempted to influence UK elections: Watch video from the vaults on BBC Timeliner
---
Martin Freeman supports Labour
The Hobbit actor's appearance in Labour's party political broadcast caused a huge stir on social media at the start of the election campaign. More than 275,000 people have watched the film on You Tube, with another half a million viewing it on Facebook. Not all the reaction was entirely positive, however:
Joey Essex is embraced by the Liberal Democrats
The "Made in Essex" star followed around Nick Clegg, Miliband and UKIP leader Nigel Farage in the first few weeks of the election campaign, for an ITV programme. David Cameron apparently refused to meet him. But it was the Liberal Democrats made the most of his social media appeal. Joey told BBC News that after interviewing Clegg he was now aware "that the party's name was not 'Liberal Democats,'" and they capitalised on this online by briefly changing their official logo on their main website to a cat.
Blog by Hannah Henderson
Next story: Fake quakes: rumours spread after Nepal tragedy
Follow BBC Trending on Twitter @BBCtrending, and find us on Facebook.