The Welsh language election debate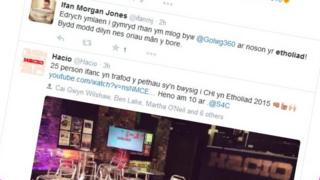 English speakers: there's a whole other political debate about the UK election taking place in the Welsh language. But it's not particularly large.
More than half a million people speak Welsh, it's been a language of politics and government since the Welsh Assembly was created in 1998, and the Welsh nationalist party Plaid Cymru has been visible across the UK media in the run up to the general election on 7 May. But on social platforms it seems that very few speakers are choosing to take part in political discussions online - at least in the Welsh language.
The hashtag #Etholiad2015 (Election 2015) is being used by Welsh commentators to highlight general election content, but over the last month it has only been used about 200 times, mostly by journalists and political candidates. The Welsh political parties have slightly more welly online, but the numbers aren't hugely impressive. The term "Llafur" (Labour) has been used 1,600 times, "Ceidwadwyr" (Conservatives) has been used 413 times, "Democratiaid Rhyddfrydol" (Liberal Democrats) has been used 120 times, and UKIP, which is the same in Welsh and English, has had 993 Welsh language tweets. Meanwhile "Plaid Werdd" and "Y Blaid Werdd" (both names for the Green Party) have been mentioned a total of 68 times.
In all of these cases, the Welsh speakers using these terms are mostly political candidates or Welsh-speaking journalists. The exception to this rule is Plaid Cymru. Their party name has featured in 53,000 tweets since the start of the election - but only 7,000 of these tweets were actually written in Welsh.
The inclusion of party leader Leanne Wood in several TV debates has generated discussion among Welsh speakers on social media. From tweets alone, then, voters outside Wales could be forgiven for thinking that Plaid Cymru is a dominant force, but that's not actually true: at the last general election the party only won three seats in Wales, while Labour won 26, the Conservatives eight and the Liberal Democrats three. In the most recent Welsh Assembly elections in 2011 Plaid lost vote share, dropping down to third behind Labour and the Tories.
The relatively high numbers for the term UKIP in Welsh tweets does not necessarily reflect widespread support for the party. Most of the comments about the party were from Plaid Cymru supporters and referenced a specific moment in the Leaders' Debate, when Leanne Wood sparred with Nigel Farage over immigration.
On Facebook the lack of political discussion in the Welsh language is even more stark. Welsh Labour has only posted two updates in Welsh on its official Facebook page, and both posts drew large numbers of comments asking for an English version of the update. The Welsh Conservatives and the Welsh Liberal Democrats haven't posted any updates in Welsh. Only Plaid Cymru releases two updates on every story, one in English and one in Welsh. UKIP and the Green Party do not have any Facebook pages solely dedicated to their Welsh campaigns.
Aran Jones, a Welsh speaker and co-founder of a Welsh learner's podcast told BBC Trending that Welsh speakers are using English to engage in politics because social media platforms militate against people who use a minority language. "I can think of only a dozen people who are only tweeting in Welsh to a Welsh speaking audience," he said.
According to Jones, it's only in the past six or seven years that English, rather than Welsh, dominated political discussion online. "Before Facebook really took off, lots of Welsh speakers used the chat room maes-e.com, and because the whole platform was written in Welsh, people only wrote in Welsh," he says. "Now most of those users have moved to Facebook and operate bilingually when discussing politics."
It's the parties themselves that have most influence on which language is used, he says. "When a party tweets in Welsh, people seem to respond in Welsh. Political parties make sweeping generalisations that all people who speak Welsh must be Plaid supporters, because they are the party who tweets the most in Welsh, but that simply isn't the case."
Blog by Hannah Henderson
Next story: Fake quakes: rumours spread after Nepal tragedy
Follow BBC Trending on Twitter @BBCtrending, and find us on Facebook.