'American diplomats: we are all blondes'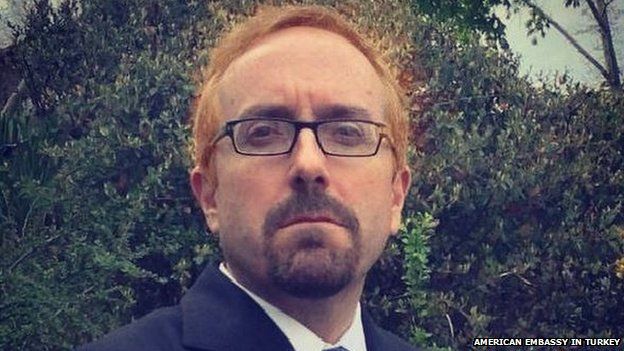 The US Ambassador to Turkey has Photoshopped his hair blond, in an escalating war of words between Turkish and US officials.
The mayor of Ankara has a controversial record on social media. Ibrahim Melih Gokcek is a member of the ruling Justice and Development (AK) Party and a staunch supporter of Turkey's President, Recep Tayyip Erdogan. He's regularly used Twitter to attack political opponents and what he sees as the "foreign lobby," including a sustained campaign against a BBC reporter covering the 2013 Gezi Park protests, which the BBC saw as intimidation. This week he turned his ire on the acting spokeswoman for the US State Department, Marie Harf.
"Come on Blond answer now!" he demanded on Wednesday night, in a tweet which was widely shared in Turkey. His anger was focused on the way the US handled recent protests in Baltimore, which he saw as an example of double standards (The US State Department was critical of the way the Turkish government cracked down on the Gezi Park protests). He shared an image of police clashing with demonstrators in Baltimore with the words: "Who accused the Turkish Police of using force disproportionally?" and "where are you, you blonde?"
When asked about the mayor's comments in her latest press briefing, Harf said wasn't going to "dignify them with a response". But the US Ambassador in Turkey did respond, and very publicly: "American diplomats; we are all blond," said Ambassador John Bass in a post on Instagram, which featured his own hair painted blond using Photoshop.
The pointed use of humour may have been an attempt to both make a statement and draw a line under the affair. But comments on Twitter show there is a still a significant divide for the embassy to breach. "Now you look like a real stupid blonde ... Your police [are] 10 times worse than all countries. Killer America!!!" wrote one Turkish user.