Why is everyone suddenly listening to this taxi driver?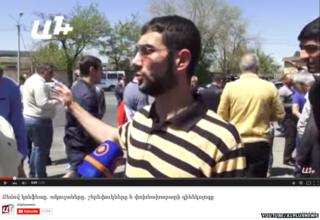 A taxi driver is being hailed as a hero online after his televised rant struck a chord with people across Armenia.
In many places around the world, taxi drivers are seen as founts of common sense - as grafting small businessmen who meet folks from all walks of life and are somehow uniquely qualified to pontificate on the issues of the day. In fact, it's such a common trope that quoting a taxi driver to gauge the mood of the public has become a certified journalistic cliché.
Well, an extreme version of that view has catapulted a previously anonymous Armenian taxi driver into fame and considerable influence. Arman Galstyan was attending a protest earlier this month in the Armenian capital of Yerevan against new taxi licensing rules which, the cabbies thought, included unfair fees. Television channels at the scene interviewed Galstyan who gave an impassioned monologue about the problems he and his colleagues faced and suggested practical solutions - proposing lower taxes and standard rules for all taxi drivers.
Transport regulation is not a subject that would seem to have wide appeal. But when the videos were posted on YouTube they were viewed more than 300,000 times - a huge hit in a country with a population of about 3m. Galstyan became an online sensation and when he appeared on a popular talk show that interview also became a viral phenomenon. In the interview, Galstyan urged the officials to take off their suits and come on a drive with him to see the reality of the taxi business in Yerevan. "Let's shift from virtual to real life and speak the people's language," he said.
So why has this bearded young man with sharp opinions and a pair of tinted glasses captured the Armenian imagination? The public empathise with Galstyan about the difficulty of dealing with city authorities and many feel that laws are selectively implemented, says BBC Monitoring's Tigran Zakaryan. "His language was colloquial but his tone conveyed a very clear message. People in Armenia look at him as a bold guy who stays positive."
Aram Shahinyan, an art director in Yerevan, tweeted that Galstyan was a "local hero." And thousands have joined fan pages set up for Galstyan on Facebook.
"There is an old joke: it is such a pity that people who clearly know how to develop the country are all working as taxi drivers. Petros Ghazaryan's interview yesterday showed it was not merely a joke," commented blogger Samvel Martirosyan. Another commented: "You are 100,000 times more intelligent and bright than [President Serzh Sargsyan] or any minister in the government."
While Galstyan has repeatedly said he does not want the issues to be clouded by politics, his popularity has led to a meeting with the transport minister. Not everyone thinks the attention is deserved though.
"Ok, he speaks impressively, but I want to understand what is his point? What do they want to change in the law?" asked the leader of an NGO. Television presenter Petros Ghazaryan commented: "I have interviewed many people who were victims of greater injustice than this taxi driver and his colleagues. But this time the public reaction is unprecedented. I can assume most people are more interested in scandals and sensations, rather than justice."
Blog by Samiha Nettikkara
Next story: The fake game that's scaring parents
Or maybe you'd like to watch: Would your child go off with a stranger?
Follow BBC Trending on Twitter @BBCtrending, and find us on Facebook.