Why are some celebrating Zimmerman shooting?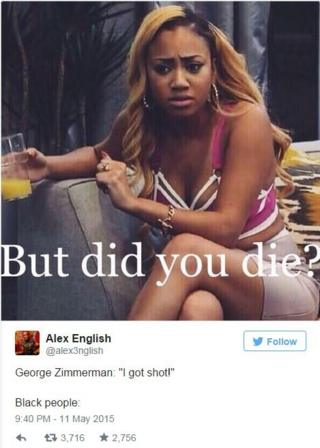 News of an incident involving a man involved in a notorious shooting case prompted angry, sarcastic and celebratory messages from some African-Americans on Twitter - while others thought the reactions were in poor taste.
For many Americans the shooting death of black teenager Trayvon Martin in 2012 - and the subsequent acquittal of neighbourhood watch volunteer George Zimmerman - is still an emotional subject. Martin's death sparked the #BlackLivesMatter movement and continues to be a rallying cry for civil rights campaigners.
So when Zimmerman was injured in a shooting incident on Monday, many African-Americans took to Twitter to make jokes and vent anger. The hashtag #WhenIHeardZimmermanGotShot has been used more than 12,000 times in the past 24 hours, and his name has been tweeted more than 300,000 times. (Zimmerman wasn't actually shot - he was sprayed with glass when a bullet shattered a car window.) The hashtag was first used by satirical Twitter accounts which share funny Beyonce and Kanye West memes.
The tag spawned several memes as predominantly black users shared images contrasting the media coverage of Zimmerman, with the coverage of the shooting of Trayvon Martin, and deaths of other black teenagers over recent months. The civil rights activist and black teacher Zellie Imani tweeted: "George Zimmerman has 7 mug shots and Trayvon Martin has none. So, who's really the 'thug'?" It was a reference to the fact that Zimmerman has had several encounters with law enforcement since he was found not guilty of murder charges in 2013, although charges resulting from those incidents have subsequently been dropped due to a lack of evidence.
The hashtag really picked up traction when hip hop music blogger and podcaster Kid Fury started sending messages using it. Many users celebrated the incident or expressed disappointment that Zimmerman wasn't killed. For instance the comedian Uncle Marv sent out a Vine of his reaction to the news and another user shared a video of black children dancing - although the kids themselves weren't actually celebrating the news of the shooting.
But others on Twitter were shocked by the reactions. One picture apparently taken at the scene of the shooting has sparked a furious debate online, with many saying the photograph is "un-christian" and an example of "what was wrong with America":
Jay Dior, who uploaded the sexy profile snap, responded on Twitter writing "people are saying I'm starting a revolutionary war on Twitter ... George Zimmerman got shot and it's hilarious". BBC Trending tried to contact Jay Dior, but she hasn't yet responded.
Blog by Hannah Henderson
Next story: Would your child go off with a stranger?
Follow BBC Trending on Twitter @BBCtrending, and find us on Facebook.