The sport reporter and the obscene ranter who lost his job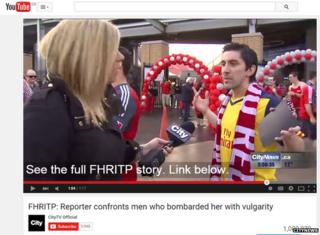 When a football fan in Toronto shouted obscenities at a TV reporter, she stopped to confront him - and another man appearing in the video has lost his job.
Ah, the perils of broadcasting. If you're not in the middle of a riot or a war zone, there's always the prospect of someone jumping in front of the camera and shouting an obscene, sexually charged phrase.
That's what happened to Shauna Hunt, a reporter for CityNews in Toronto while she was reporting outside a football match. But instead of ignoring the outburst and continuing her interview, Hunt went after a group of men after one of them jumped in front of her camera and shouted an obscene phrase. The subsequent argument was posted to YouTube with the profanities bleeped out by the TV station, and has been watched 1m times.
"It's a disgusting thing to say, it's degrading to women," Hunt says to one of the men. "I get this every single day, ten times a day, by rude guys like you."
The man was later identified and appears to have lost his job at a Canadian energy company. Several other men are pictured in the video, including the man who first jumped in front of the camera, but it's unclear what, if anything, has happened to them.
On Twitter, more than 10,000 messages were posted using a hashtag that's an acronym of the original dirty phrase: #FHRITP.
"To all you idiot men who yell obscenities & #FHRITP at female TV reporters: You're guilty of sexual harassment & I hope you get fired too," tweeted another Canadian reporter.
The act of interrupting a TV report and shouting this phrase (which we are not going to repeat for reasons of decency) is, in fact, part of a social media trend. A YouTube prankster named John Cain claims to have been the first person to make the phrase popular - he made a series of viral faked videos which seemed to show live newscasts being interrupted by the profane phrase. Those sparked a trend of real-world obscenity shouters which seems to plague TV journalists in Toronto and elsewhere. CityNews says several of its reporters have been targeted.
In a video responding to the incident, Cain claims the outburst is a funny prank and denies it's sexist - although many Twitter users and YouTube commentators disagree. Some highlighted the fact that the man who got sacked wasn't the original shouter. "My concern is that he got fired for thinking something his friend did was funny. Which is absurd. Go after the GUY who said the thing not his friends," said one commenter on Reddit. Others said he got exactly what he deserved: "Where does making the distasteful joke come from? An ignorant mindset, immaturity, lack of professionalism. It seems he wasn't qualified for the job he had in the first place."
Blog by Mike Wendling
Next story: The 'disappearing' game that's frightening parents around the world - even though it's a fake
You can follow BBC Trending on Twitter @BBCtrending, and find us on Facebook. All our stories are at bbc.com/trending.