The internet reacts to Pietersen decision with #StraussLogic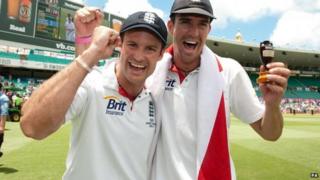 Cricket fans around the world have been criticising former England captain (and now Director of Cricket) Andrew Strauss for not considering Kevin Pietersen for the upcoming Ashes series against Australia - mocking him with the hashtag #StraussLogic.
Strauss said Pietersen will not play for England this summer because there was a "massive trust issue," but that he's not been banned from future England action. Pietersen recorded a career-best 355 not out for Surrey on Tuesday.
Over 20,000 tweets have been sent since Tuesday mocking Strauss, with some comparing the decision to dropping the batsman to, for instance, Barcelona dropping Lionel Messi. The hashtag started by a few cricket fans and was picked up by celebrities including Piers Morgan, footballer Matt Le Tissier and other international cricketers.
South African cricketer Graeme Smith tweeted "I see the head boy is making English cricket the laughing stock again! #StraussLogic", while Sri Lankan batsman Kumar Sangakkara tweeted "I don't trust @KP24 enough for him to play for England but I trust him enough to advise me on ODI cricket #strausslogic" - a reference to an offer that Strauss made to take on Pietersen in an advisory role. Pietersen turned the offer down.
Pietersen himself even weighed in, tweeting he was thinking of "applying for the coaching job! #StraussLogic"
The 34-year-old was sacked by England in February 2014 and wrote an autobiography later that year which criticised several players, and said there was a "bullying culture" in the squad. He's playing county cricket in a bid to return to the Test team.
Next story: The 'disappearing' game that's frightening parents around the world - even though it's a fake
You can follow BBC Trending on Twitter @BBCtrending, and find us on Facebook. All our stories are at bbc.com/trending.