Would it have been different if the Waco bikers were black?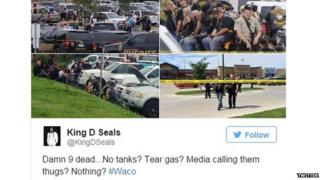 After a shoot-out between rival biker gangs in Texas, civil rights activists are accusing police of double standards by comparing pictures of the scene with those of recent unrest in Baltimore and Ferguson.
Nine people have died and 18 others have been injured in a motorcycle gang brawl outside a diner in the Texan city of Waco. In the aftermath of the violence, some activists have seized upon the relatively relaxed-looking police presence as seen in news agency pictures. Several of the arrested bikers - who mostly appear to be white - were allowed to sit alongside police without apparent being handcuffed. And some asked whether they would have been treated any differently if they had been black.
"White Waco gang members that just killed 9 people v. a Black man walking home in Ferguson" wrote one user as she shared pictures of the bikers and demonstrators being targeted by police in Ferguson, Missouri in 2014. The images were picked up by black civil rights campaigners, and have been retweeted thousands of times.
One of the most widely shared posts was put up by Josh Nelson, a communications adviser with the campaigning organisation Credo Action. - their website says that they "actively encourage" people to get involved in progressive campaigns.
The most widely re-tweeted updates on the story are all in a similar vein, with the online conversation being dominated by civil rights activists who were involved in the Ferguson movement. Deray McKesson, the curator of the "We The Protesters" website, tweeted: "They've recovered at least 100 weapons from the Waco #TwinPeaksShooting scene. 100. The Nat'l Guard would be mobilized by now if, black."
"The news is describing the Waco biker gangs as an established part of American life. If they were black, they would all be thugs by now" he added in another tweet.
Blog by Hannah Henderson
Next story: How a hotel fire kicked off a campaign against the Iranian government
Follow BBC Trending on Twitter @BBCtrending, and find us on Facebook.