The Kenyan woman on Chinese death row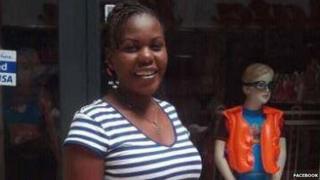 The story of a young mother who has been sentenced to death in China has gripped Kenyans, as they use her case to discuss the influence of China in Africa.
In May 2013, Floviance Razan Owino left her one-year-old daughter with her sister in Nairobi, with the promise that she was going to seek work elsewhere to support her. Her sister told BBC Trending that she heard briefly from Floviance a few days later. But after that nothing - she was absent for two long years.
Then last Thursday, the phone rang. A mystery caller from China, informed the family that she had just been sentenced to death for drugs smuggling in Beijing.
The family were confused. They took to social media to try and verify if Owino was in fact in China.
Since then, Owino's name and a hashtag #FreeMsOwino have been used more than 5,000 times on Twitter. But many are using it to go beyond the case - debating the merits of defending an alleged drug smuggler, and discussing China's influence in the region.
"While a Kenyan is waiting to be hanged in China, hundreds of Chinese whipping Kenya's elephants & rhinos walk free and rich," tweeted Haytham Bhalo, a banker. "A Chinese caught with tonnes of Ivory is given bond, A Kenya found with a kilo of Coke is about to be hung" tweeted Mageto Elijah, a chemist. But others disagreed: "drug lords must be executed without mercy" tweeted an anonymous user.
Chinese firms have invested in major construction projects in Kenya in recent years, and some used the hashtag to make jokes. "Those Chinese should bring her while they come fix our drainage system!" tweeted the influential Kenyan blogger Xtian Dela. Owino's case comes at a time when some are questioning Kenya and China's relationship. In December 2014 the Kenyan government arrested more than 70 Chinese nationals on charges of hacking and money laundering. Since the group's alleged victims are all in China, Beijing has formally requested the extradition of many of the suspects.
Owino's family have given an emotional interview to Kenyan TV in which they criticise the Kenyan government for not advising them sooner of her situation. In response, Kenyan officials in Nairobi have told BBC Trending that they were only told of her case when the family notified them last week.
Since then, officials have established that Owino is in fact being held in prison in Guangzhou and has been given a sentence of execution which has been suspended for two years pending a review of her case.
(After this story was first published, China's Ministry of Foreign Affairs told the BBC that Owino was arrested in May 2013 when she tried to enter China via Guangzhou Baiyuan Airport. If she doesn't violate the law during the two-year suspension period, the ministry said, her death sentence will be commuted to life imprisonment. She will also be eligible for a reduction in the sentence if she "has outstandingly good performance".)
Owino is not the first foreigner to fall foul of China's drug smuggling laws. In 2009 a British man, Akmal Shaikh was executed by lethal injection despite appeals for clemency from the UK government and his family. Last year, a Chinese court sentenced one Japanese drug trafficker to death, and two Koreans were sentenced to death with a 2-year reprieve and life in prison respectively. According to Chinese government data, police arrested nationals from more than 40 different countries in connection with drugs offences in 2013.
Chinese media have reported that over the past five years there has been a big increase in foreigners drug smuggling in the country with "more than 80% of them from Africa, especially those from North Africa and East Africa". Last year a Chinese newspaper claimed that narcotics teams were hiring specialist translators because African drug gangs "were using their own tribal languages" to conduct their business. A report citing Liu Yuejin, the head of anti-drug bureau in the Ministry of Public Security, said the Chinese police successfully dealt with 1139 cases and arrested 1488 foreign traffickers in 2013.
Still, despite extensive searches by the BBC no record can be found of Owino's case being reported in the Chinese press. So without the intervention of the mystery caller it seems unlikely that Kenyan officials would have been told of her case. The number used to make the call to Floviance's family has been tested by the BBC and is believed to be a fake account, probably generated through the use of a temporary Chinese sim card.
The Owino family told BBC Trending that they were grateful to the mystery caller who notified them of their sister's detention. They are now using the hashtag's popularity to ask for money for a lawyer.
Blog by Hannah Henderson
Reporting by Vincent Ni, Idris Situma and Lily Lee
Next story: How a hotel fire kicked off a campaign against the Iranian government
Follow BBC Trending on Twitter @BBCtrending, and find us on Facebook.