Only men at your event? This blog will shame you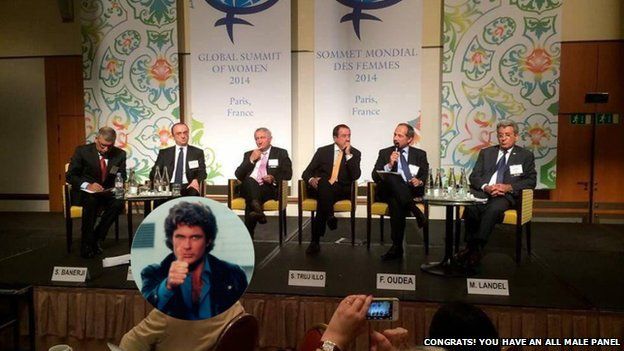 How often have you looked around at a meeting or in the office, lecture hall or event space and seen a room full of just men?
Now one website is pointing out this phenomenon by publishing photos of all-male panels, or "manels". The site is a Tumblr blog, sarcastically called, Congrats! You Have an All-Male Panel.
It started in February and features 200 photos, submitted from people from about 10 countries. The simple but now-viral idea is a project of the Finnish feminist researcher and artist Saara Sarma, who specializes in internet parody images and memes.
Whether it's a Global Summit of Women with only men on the panel or back-to-back male panels in conferences, the images on the site bring home the message that gender equality among rostrums of leaders or experts is in short supply.
The blog has over 5,000 followers on Tumblr. The site has been shared on Twitter more than 6,000 times and been liked or shared on Facebook over 60,000 times.
The most distinctive part of the Tumblr blog is a stamp added to every submitted panel. It's a photo of a picture of David Hasselhoff, the American actor, best known for his lead roles in the popular US TV series Knight Rider and Baywatch.
There's no indication that the Hasselhoff actually endorses all-male panels, instead Sarma says: "He just epitomises white masculinity especially in his '80s Knight Rider appearance, a lone white man saving the world with a help of a car. I grew up watching Knight Rider so I do have some kind of fondness for the Hoff."
Sarma believes the stamp is partly what has made the blog popular. "This is such an enraging and sad thing, but to be able to laugh at it is truly empowering for many people," she says.
Sarma points to many other efforts to call groups out on the "manel" phenomena including the Twitter accounts of watchdog group @EUPanelwatch and @genderavenger, public forums like Foreign Policy Interrupted and websites manpanels.org and that of Owen Barder, the Director for Europe at the Centre for Global Development, who is encouraging male experts to take a pledge not to appear on all-male panels.
"I think it is always very small steps that we take towards equality, so I don't dare to hope that manels would stop altogether, but if this makes people to think about diversity more seriously and at least some people commit to not organising all male or all white panels, I'd be very happy," Sarma says. "I'd be very happy if I never saw any of my colleagues on an all-male panel again."