Crop tops and ripped jeans spark Canadian school protests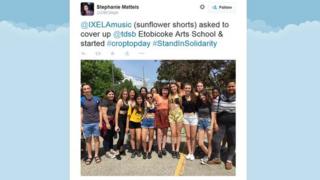 When female high school students were told their outfits were inappropriate, Canadians on social media stood in solidarity.
A day before her 18th birthday, Toronto student Alexi Halket was pulled into the vice principal's office and told her crop top was inappropriate. Instead of covering up, she decided to wear similar outfit the next day. She did - and more than 5,000 tweeted on #CropTopDay and students across the city wore short shirts in support.
The students revealing their shoulders and midriffs argue women and girls should be able to dress comfortably. Current dress codes, they argue, are not about shirts and pants, but reflect attitudes sexualizing the female - including underage female - body.
@CDF1999 tweeted "#StandInSolidarity bc I'm a fifteen y/o girl & if my shoulder or stomach bothers u YOU are sexualizing me & YOU are the problem #CropTopDay."
Halket's fellow student Ashlyn Nicolle is petitioning the school administration to re-evaluate that dress code, and has received more than 4,000 signatures.
"In some situations where female students are asked to put sweaters on and 'cover up,' a message is implied that we as female students must cover up to ensure the male students are not distracted," Nicolle writes.
"The sexualisation of a teenage girls body is not her problem, it is the problem of those who choose to sexualize a 17-year-old's body. Female students should be able to wear shorts in the summer months in order to stay cool, you should not be teaching young girls that their bodies are inherently sexual or inappropriate."
At the same time in London, Ontario, Grade 12 student Laura Anderson was sent home for wearing a tank top and ripped jeans. The next day, students across the Thames Valley school district dressed in tank tops and ripped jeans, tweeting pictures under the hashtag #MyBodyMyBusiness and #StandInSolidarity.
"Far from sexualizing women's or men's bodies, this is about appropriate attire for different settings," Thames Valley District School Board spokesman Richard Hoffman School told that BBC. "You wouldn't likely go to a funeral wearing the outfit you wore dancing. ... Many workplaces have minimum standards for acceptable clothing."
But many can't see beyond the outfits to hear the point of defying school dress codes.
@GOPMommy tweeted "#Feminism: fighting for the right to dress like skanks so they can whine about 'rape culture' when anyone looks at them. #CropTopDay."
Andrea O'Reilly, a professor of women's studies at York University says the students should be given credit for taking a stand on this long-standing issue.
"I remember my sister was one of the first girls sent home for wearing pants in the '60s," said O'Reilly. "We live in a culture that both denies women's sexuality, but is obsessed with it."
But she says, sexist policies also infantilized and dehumanized men, assuming if they're attracted to a girl, they'll sexualize her and lose control.
"There are a lot of myths out there, that women are asking for it, and boys can't control their bodies," O'Reilly said. "None of this is true, but I think on some level we believe this as a culture, and this is why we keep returning to these discussions."
Blog by Micah Luxen
Next story: 'You are not your marks!' say Indian and Chinese students
Follow BBC Trending on Twitter @BBCtrending, and find us on Facebook.