Protesters target Facebook's 'real name' policy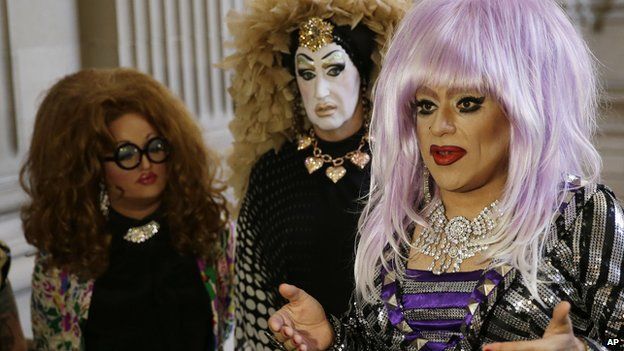 Demonstrators including drag queens, Native Americans and domestic violence victims, gathered outside Facebook's headquarters in California on Monday to lobby the company to change its policy requiring people to use their real names on the site.
When it opened to the general public in 2006, Facebook's strict "real name" policy was a point of difference - other social networks such as MySpace and Friendster had been besieged by fake and spam accounts. But the policy has irked several groups who prefer to use names other than their legal ones, believe that anonymity is vital to their safety, or have difficulty verifying their unusual monikers.
The company argues that the policy keeps users safe; that people can't hide behind fake identities to hurl abuse at others. But when people are reported for potentially violating the rules, Facebook can require proof of identity - which some find difficult to provide, leading to accounts being suspended or deleted.
BBC Trending has reported on several Facebook naming controversies.
Drag queens often use stage or performance names, and transgender people often change their names or have difficulty proving their evolving identities. That's put many at odds with Facebook's policies. Last year BBC Trending radio went to London's Soho neighbourhood to hear from some of those affected.
Native Americans often incorporate animals, natural features or other elements which to non-Native ears "sound" fake. So, for example, blogger Dana Lone Hill had difficulty using her real name on Facebook, and Lance Browneyes of the Oglala Lakota community in South Dakota was temporarily blocked, and then had his name changed to Lance Brown (Facebook has since reinstated his real name). Browneyes called for others who had received similar treatment to come forward, and said he was planning on filing a lawsuit. You can read more on this story here.
Vietnamese political activists
Last August, a string of Vietnamese activists had their Facebook accounts suspended, and claim to have been targeted by an "online army" sponsored by the Vietnamese government. When David Nguyen - a human rights lawyer - tried to log in to the site, he found his account had been blocked. He was faced with a message from Facebook which said he was suspected of posting fraudulent personal information. And at least 100 users - mostly pro-democracy and human rights campaigners - have faced similar treatment, according to Viet Tan, a political group who oppose the communist government. You can read more on that story here.