A Facebook executive's candid post about grief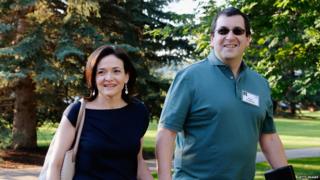 A little more than a month after the sudden death of her husband, one of Facebook's top executives has come out of mourning with a candid Facebook post about grief.
Sheryl Sandberg, author of "Lean In" and Facebook's chief operating officer, published a post to mark the end of sheloshim, the 30-day period of religious mourning observed in Judaism.
"I have lived thirty years in these thirty days. I am thirty years sadder. I feel like I am thirty years wiser," she writes.
Her candid, 1,700-word post talks about her will to move forward and her inability to understand what the future will look like without her partner and the father of her children. David Goldberg, who was chief executive of SurveyMonkey, died in a gym accident while on holiday.
"I think when tragedy occurs, it presents a choice. You can give in to the void, the emptiness that fills your heart, your lungs, constricts your ability to think or even breathe. Or you can try to find meaning," Sheryl Sandberg wrote. "These past thirty days, I have spent many of my moments lost in that void. And I know that many future moments will be consumed by the vast emptiness as well. But when I can, I want to choose life and meaning."
The post struck a nerve among Facebook users, earning more than 200,000 likes. Among the thousands of comments were remarks from others who had lost loved ones and were navigating the same process but who are further along the timeline of grief.
"Having lost my sweetheart one year ago I was still stuck," wrote Sheila Smith Providenza, who also said that Sandberg's post inspired her to move on.
Kate O'Neill lost her husband three years ago. She has channelled her feelings into a book: "I think there is a kind of reluctant and intense gift to enduring this kind of loss in the meaning and gratitude it can bring forward for us. I'm so pleased to read that you're finding that focus," she wrote.
Indeed, the comments on the post showed a continuum of grief and offered a glimpse of how the grief process plays out over several years.
After experiencing the loss of her mother and her husband within a short span of time in 2009, Claire Vander Vennet Immonen wrote that she recognised Sandberg's grief. "As far as I was concerned, I learned what a living hell was. It was those days. Sometimes I still have them, but very few and far between now."
Julie Marble's husband died eight years ago. She wrote: "It's like being hit in the nose: it always hurts just as much but you learn to keep fighting. We learn to breathe. We learn to accept that sometimes out of the blue grief is going to visit with us. And the road we were on is no longer the same, nor is the destination nor are the risks and fears and dangers"
Darrin Dixon wrote: "I lost the first love of my life six months after she gave miraculous birth to our first child. I had very few words then, but as time has passed - 11 years now, the words have come. First quietly in my mind, then forays on paper, now in the beginnings of memoir."
He finished with words of gratitude: "You are not alone. Thank you for reminding me that I'm not either."
Blog by Kate Dailey
Next story: No more murders, say women in Argentina
Follow BBC Trending on Twitter @BBCtrending, and find us on Facebook.