Are ancient buildings as important as human lives?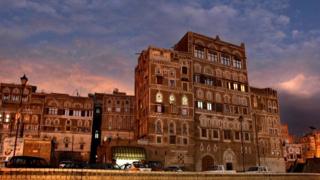 The destruction of beautiful historic buildings in Yemen has provoked an online debate, with people asking if buildings are being valued more than human lives.
Yemen's war is entering its third month, and on Friday Yemenis woke up to news that five houses in the old city of Sanaa, a UNESCO world heritage site, were allegedly hit by a Saudi-led coalition airstrike (Saudi Arabia has denied the claims). The houses, as well as being historic, were also inhabited and the incident killed five people and injured several others.
Online, there was much mourning for the people - but seemingly just as much for the destroyed buildings. "This heritage bears the soul of the Yemeni people, it is a symbol of a millennial history of knowledge and it belongs to all humankind," UNESCO said in a statement.
Yemenis also poured their hearts out. "I have no words to express my feelings right now after seeing this photo and others on twitter... the legendary Harat al Qasmi in the old city with its beautiful bustan [garden]..." one Yemeni woman wrote on Facebook.
"Today I lost my soul and the only place on earth where I felt at home. The reasons to live are quickly disappearing, too quickly for it all to sink in." Yemeni anti-war activist Sarah Jamal wrote on her Facebook page.
For many in Yemen, one of the poorest countries in the world, their historical and cultural wealth are among the few riches they have to be proud of. And the old city of Sanaa, home to famous multi-storeyed mud-brick buildings that have been continually inhabited for the past 2,500 years, is one of the country's crown jewels.
Other ancient sites such as the centuries-old Al-Qahira castle [Cairo castle] that sits on top of a mountain in Yemen's third city of Taiz and the 8th Century Ma'rib dam were also reported to have been hit by airstrikes recently. Supporters of the Saudi Arabia-led military intervention in Yemen blame the damage on Houthi rebels who have been fighting with local armed groups.
But the focus on architecture is causing anger and anguish for other Yemenis. With more than 2,000 people killed in the conflict, according to a UN estimate, 1 million internally displaced and 20 million in need of humanitarian aid, some were asking: why are people so upset over a few old buildings?
"I'm astounded to see people crying over stones and not over massacres against humanity in Yemen," one man wrote on Twitter.
---
Confused about Yemen? Want to know more? Check out this interactive explainer.
---
Another popular tweet reads: "To those crying over stones in Sanaa, don't forget that there are people being killed in Taiz and Aden while you remain silent. Stones are not more precious than humans."
The debate over preservation of historical sites amidst the human toll of war was also raised when Islamic State seized the ancient Syrian city of Palmyra - another world heritage site - prompting fears they would demolish ancient buildings.
"The destruction of heritage sites is a big loss to humanity, we are depriving foreigners of a place to visit in the summer. After all, the humans we have lost don't count," one Syrian tweeted, mocking the media attention Palmyra's cultural treasures were receiving.
But others argued that caring about ancient sites doesn't mean that civilian deaths are being belittled.
"Of course, the lives of the thousands killed in Yemen's war are more important," Yemeni British journalist AbuBakr al-Shamahi wrote in a blog post. "But I, and many other Yemenis, feel a deep sense of pain when we see the destruction of our heritage, places that we want to share with the world. It took our ancestors hundreds, if not thousands of years to build our cities in the sands and our palaces in the mountains. All it takes is a moment for them to be destroyed."
Blog by Mai Noman
Next story: Why one failed asylum seeker trended - while many others do not
The term "failed asylum seeker" doesn't usually elicit huge amounts of sympathy - so why did thousands rally behind one man deported this week?READ MORE
You can follow BBC Trending on Twitter @BBCtrending, and find us on Facebook. All our stories are at bbc.com/trending.