Twitter already loves the Trump campaign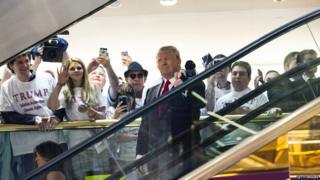 Donald Trump's Tuesday announcement that he's running for the Republican presidential nomination turned into must-see television for many political news junkies - and a feast for social media.
As many basked in the glory of what one network referred to as a "lengthy and meandering 45-minute speech", others took to Twitter and Facebook.
"Hearing Trump is running for president is the first and only thing that has made me miss late night," writes former talk show host Craig Ferguson. "I'll get over it but... damn."
"I don't want a financial statement from Trump; I want a mental health statement from Trump," writes Politico's Roger Simon.
There were critiques of the questionable stagecraft surrounding the event - particularly his escalator-borne entrance - and, of course, the length of his monologue.
"Donald Trump's campaign announcement is a professional capitalist's version of a seven-hour Fidel Castro speech," writes National Memo's Eric Kleefeld.
Political strategists like Republican Rick Wilson tried contemplating a path to victory for the businessman.
"I want you to imagine the chain of mishaps that would lead to President Trump," he writes.
Others had a brighter outlook.
"Trump isn't really a more ridiculous person than Newt Gingrich, and Newt Gingrich won the South Carolina primary calling for a moon base," writes Josh Barro of the New York Times.
And then there were suggestions on possible campaign strategies for the man who estimates his personal wealth at over $8bn (£5.1bn).
"Rick Santorum got 29,839 votes in Iowa," writes Huffington Post's Sam Stein of the 2012 Iowa caucuses winner. "Mitt Romney got 97,532 in New Hampshire. Trump could give each of these people $55,000 and still have $2bn left. #strategy"
After he became a fabulously wealthy businessman but before his recent turn into politics, Mr Trump was an over-the-top celebrity - star of his own reality show. So perhaps it's not surprising that the general reaction on social media was one of amusement mixed with open derision. Very few commentators take candidate Trump seriously, although some caution that he could have a real impact on the Republican race.
Add in the fact that Mr Trump has the highest net-unfavourability ratings of any presidential candidate according to public opinion polls reviewed by the website FiveThirtyEight.com, and it's a formula for a candidate announcement that is more public spectacle than news event.
And, of course, Mr Trump didn't do anything during his actual speech to dispel such notions.
"Donald Trump is a fascinating media study," tweets MSNBC's Benjy Sarlin. "Lack of clear ideology seems to make otherwise cautious neutral reporters comfortable going off."
Then again, nothing anyone wrote on Twitter on Tuesday tops the regular stream of eye-popping material Mr Trump himself regularly posts to his @realdonaldtrump account - whether it's about politics, pop culture, current affairs or sport.
"Sorry losers and haters, but my IQ is one of the highest -and you all know it!" he once tweeted. "Please don't feel so stupid or insecure, it's not your fault."
Perhaps the best response, however, was an official one from the Democratic National Committee. The Democrats played it straight, including a reference to former Florida Governor Jeb Bush's announcement on Monday. You could imagine the snickering behind the keyboard, however.
"Today, Donald Trump became the second major Republican candidate to announce for president in two days," writes press secretary Holly Shulman. "He adds some much-needed seriousness that has previously been lacking from the GOP field, and we look forward to hearing more about his ideas for the nation."
I'm sure they do.
Next story: Who's behind the 'Mossad Stole My Shoe' slogan?
You can follow BBC Trending on Twitter @BBCtrending, and find us on Facebook. All our stories are at bbc.com/trending.