Tumblr features pregnant pro-choice advocates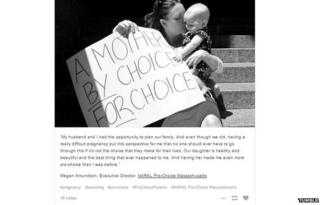 As the debate over abortion rights continues in many parts of the US, a Tumblr blog titled Pregnant, Parenting and Pro-Choice is gaining traction promoting what it says is the real - and very family-friendly - face of the movement.
The blog was by a Washington Post profile detailing the disbelieving comments one abortion-rights advocate received on entering a Congressional hearing when she was 36 weeks pregnant. (One anti-abortion advocate reportedly asked, "Is that real?").
The blog offers stories from mothers and pregnant women - some who work in abortion clinics, others who are mothers but had an abortion at some point in their lives, and others who simply identify with the pro-choice movement.
Jodi Jacobson, who is editor-in-chief of the reproductive-rights blog RH Reality Check, said she started Pregnant, Parenting and Pro-Choice as a "visual representation" of abortion statistics in the US.
Pointing to a study stating that 61% of women who choose an abortion are already mothers, Jacobson said she wanted to illustrate that women who are pro-choice are not, by default, anti-pregnancy or motherhood.
The experience of one abortion provider who worked through her pregnancy received 34,000 notes.
"When I was pregnant, patients often asked me if it was hard/weird do their abortion," Pratima Gupta wrote.
"My response was simple. 'Not at all. It is not the right time for you, but it is for me. Later on, if you decide to become a parent, I will be by your side too.'"
Jacobson says it's important to share these stories to rise above the political debate.
"We're forced to personalise it because everything about our bodies is contested, including our reproductive decisions and choices," Jacobson said.
"People make the word 'choice' out to be something frivolous, but these women are making a decision based on a lot of factors. I think this blog illustrates that in a very physical way."
Blog by Brenna Cammeron
Next story: This is how Beijing residents are outing smokers
From 1 June, a ban on smoking has been in effect in the Chinese capital's indoor public spaces including restaurants and office buildings, and on public transport. Beijing residents miffed with smokers defying a ban are outing them online.READ MORE
You can follow BBC Trending on Twitter @BBCtrending, and find us on Facebook. All our stories are at bbc.com/trending.