World Yoga Day: The Twitter row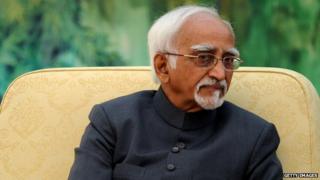 International Yoga day was a huge event online - but with it came a political sideshow.
On Sunday, Indian Prime Minister Narendra Modi and more than 35,000 people took part in a mass yoga programme, setting a new Guinness World Record for the largest yoga class at a single venue. The event made for glowing headlines all over the world and many thousands participated across international borders. There was some controversy about it domestically, though, when some from India's Muslim minority worried about a "Hindu agenda" at work.
Then came the Twitter storm. It happened because some noticed that India's Vice-President Hamid Ansari - who is Muslim - was not present at the event.
His absence was questioned in a tweet by Ram Madhav, a senior figure in Prime Minister's ruling BJP party and formerly leader of the the Rashtriya Swayamsevak Sangh (RSS), the ideological godfather of the BJP and the largest Hindu nationalist group in India.
Mr Madhav's tweet was quickly qualified - he said in a subsequent tweet said that the vice-president had been unwell. Both posts have since been removed.
Then, Vice President Hamid Ansari's office responded that Mr Ansari was not unwell and was "never invited" to the event. "The vice-president only attends those programmes in which the minister concerned invites him as per protocol," its statement said.
Another minister, Shripad Yasso Naik, who presides over for AYUSH (Ayurveda, Yoga and Naturopathy, Unani, Siddha and Homeopathy), then clarified that the invitation was not sent due to a "warrant of precedence". "When we call the prime minister, we cannot call the vice-president… We invited everyone, all the ministers, all the chief ministers, but according to the rule we couldn't send Ansari an invitation. I have admitted my mistake. It must have been avoided. Mistakes are made, we are only humans," he told the CNN-IBN channel.
On Twitter, Mr Ansari supporters got a hashtag trending: "I Stand with Hamid Ansari". The hashtag has been mentioned more than 9,500 mentions over a span of six hours.
"We need a National Common Sense Day where BJP be taught that people of other religions are also people. Respect them," said one user, while another posted, "Maybe Hamid Ansari isn't as obsessed with TV cameras, Guinness Records and PR campaigns as our other dimwitted leader."
However, there's a political slant to the hashtag: many of those using it are accounts associated with the opposition Congress party. One of the first to use it was Gaurav Pandhi, whose Twitter bio describes him as a member of the Congress' information and technology cell.
This is not the first time the vice-president has been caught up in a Twitter controversy. He faced criticism for not saluting the national flag during the parade on Republic Day this January, but his office clarified that as per the protocol, those in civil dress stand in attention.
On a lighter note, the World Yoga Day was also the subject of memes showcasing the different yoga postures or 'aasanas'. Here is a selection of four posts that caught our eye.
Blog by Samiha Nettikkara
Next story: Tumblr features pregnant pro-choice advocates
As the debate over abortion rights continues in many parts of the US, a Tumblr blog titled Pregnant, Parenting and Pro-Choice says it's showcasing - and very family-friendly - face of the movement. READ MORE
You can follow BBC Trending on Twitter @BBCtrending, and find us on Facebook. All our stories are at bbc.com/trending.