What it means to be female in Nigeria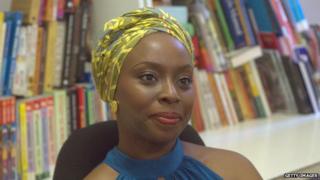 What does it mean to be female in Nigeria? Women in Nigeria are using a hashtag on Twitter to share their experiences of everyday gender discrimination.
It started with a small book club meeting in the capital of Abuja on Sunday. Its members were discussing Chimamanda Ngozi Adichie's "We Should All Be Feminists", based on the writer's popular talk. "We started describing our own experiences and challenges and thought we should bring the discussion to a larger group," says the book club's Florence Warmate. The area sales manager began to tweet her thoughts with the hashtag #BeingFemaleinNigeria, and soon the timeline flooded with other women sharing the unique situations they face because of their gender.
The hashtag, which has been mentioned more than 80,000 times on Twitter, has been used by both women and men to debate gender identity and describe how women face sexism in their workplace, public places and even in their homes.
"#BeingfemaleinNigeria is being told countless times that I will never find a husband because I am 'too ambitious' and outspoken," said one tweet.
Several tweets explained how they had to deal with gender stereotypes at work or being judged even based on the kind of vehicle they drove. "I learnt that if you graciously cook food & take to work for male colleagues, you must clear their dirty plates too," said one woman. "If you own an SUV, it's your sugar daddy/ married lover that bought it for you," tweeted another user.
"You can't go to club on your own to have a solo drink, you're a prostitute," read a tweet about the problems faced while going out. "Having to bear the trauma of your rape alone because your rapist is a highly respected family member," said another.
Another post referenced #BringBackOurGirls, the global online campaign which called for the release of the Nigerian schoolgirls kidnapped by Boko Haram fighters: "You get kidnapped and killed because you are being educated."
Warmate says she does not expect society to change overnight. "But this can enlighten people and change perceptions about women. When women work hard, respect that." Nigeria is currently ranked 118th out of 142 countries in the Gender Gap Index 2014 of the World Economic Forum. In a new survey the 'Global Women Entrepreneur Leadership Scorecard', Nigeria scored the highest when it came to women who thought they have the skills to become entrepreneurs, but scored the least among 31 countries for 'business environment'.
While several men have also actively encouraged the stories coming out of #BeingFemaleinNigeria, some responded with another hashtag: #BeingMaleinNigeria. "You must pay for lunch/dinner/movies/etc because masculinity = money," tweeted one man, while another said, "You are responsible, hardworking, morally upright. But stereotype of Nigerian men by women will overshadow your efforts."
Warmate clarifies her trend is not meant to put men down. "This is about gender equality. It's about how if a man did the same thing we did, no-one would ask him anything," she tells Trending. "It's not male bashing. It's not feminism." When asked why she thinks the trend is not linked to feminism, she explained that feminism is a broad subject with different definitions for different people, and it can be associated with a 'negative agenda'.
The conversation that started in Nigeria has resonated with women across the world and has sprouted posts about what it means to be women in other African countries like Ghana, and also Bangladesh. "Hashtags #BeingFemaleInGhana #beingfemaleinZimbabwe #BeingFemaleInNigeria just show that it's tough being a woman. Simple. But we're strong!," summarised one user.
Blog by Samiha Nettikkara
Next story: Bree Newsome: Flag activist becomes online folk hero
Bree Newsome scaled a flagpole on the grounds of the South Carolina state capitol and took down the Confederate flag. By the time she climbed down, she was a hero to many online. READ MORE
You can follow BBC Trending on Twitter @BBCtrending, and find us on Facebook. All our stories are at bbc.com/trending.