The letter that summed up anger at Donald Trump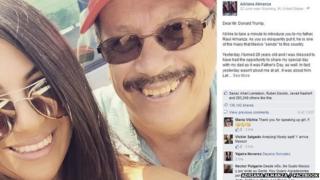 An open letter written after US business mogul Donald Trump made controversial comments about Mexicans while announcing his presidential campaign has catalysed anger within America's Hispanic community.
His comments about Mexican immigrants were stark: "They're bringing drugs, they're bringing crime, they're rapists, and some I assume are good people, but I speak to border guards and they tell us what we are getting," Donald Trump said during his announcement speech last week. He went on to vow to build a fence on the US-Mexico border: "I will build a great wall, and nobody builds walls better than me and I would build it very inexpensively and I will have Mexico pay for it, mark my words."
Since then, thousands of Mexican-Americans have turned to social media to express their rage, and the backlash has cost Trump some business: US Spanish-language television network Univision decision to cut ties with the tycoon. However, one open letter on Facebook captured the general feeling among Hispanics in the United States and was liked around 300,000 times.
"Dear Mr. Donald Trump, I'd like to take a minute to introduce you to my father, Raul Almanza," wrote Adriana Almanza. "My dad has worked 5-6 days a week since I was a child and I've never heard him complain about it even once. He doesn't drink. He doesn't take drugs. He is certainly not a criminal, rapist, or drug trafficker, as your speech suggested."
"I've never been one to bite my tongue and that is why I wrote the letter," Adriana Almanza told BBC Mundo. Her father came to the US to work as an illegal immigrant 30 years ago, but she notes he's currently a legal resident, and she described how she watched Trump's speech in disbelief: "The hardest part for me to fathom was when he said Mexico does not send their best. I know plenty of Mexico's 'best'," she said.
Thousands of Facebook users commented on her post, which included a picture of her standing next to her father. "Thank you for speaking about this on behalf of the Latino community," wrote Angela Castillo. "That was just beautiful; how you talk about your dad, your principles, our heritage, and that we are here to help this beautiful country, to be just a little bit better every day, you and your dad are the best example that we are here to accomplish our dreams. OUR American Dream," wrote Jesus Rocha.
Among the overwhelming support on Almanza's page, there were a few dissenters: "If your father is not a criminal, why get offended by Mr Trump?" said Jesus Cisneros. "He never said all of them."
Immigration will likely be a hot issue in the race to take over the White House. Democrat Hillary Clinton favours creating a path to citizenship for illegal immigrants. Republican Jeb Bush has said he might also support such a plan, but other Republican candidates are opposed. Several have outlined tough stances on immigration, although few have courted controversy like Trump. Hispanics make up a significant proportion of the population in several swing states which will be key to the election, such as Florida.
So far Donald Trump has only commented about the Univision decision, accusing the Mexican government of meddling in business. "Mexican gov doesn't want me talking about terrible border situation & horrible trade deals. Forcing Univision to get me to stop- no way!" he tweeted. It's unclear exactly what Trump was referring to - Univision is a privately held American company headquartered in New York. But later he tweeted: "I love Mexico but not the unfair trade deals that the US so stupidly makes with them. Really bad for US jobs, only good for Mexico."
Blog by BBC Mundo's Gabriela Torres
Next story: The new craze for torching banknotes
Pretty much anyone can chuck a bucket of ice over their heads. But to join in the latest internet challenge from Uzbekistan, you need to have cash to burn - literally.READ MORE
You can follow BBC Trending on Twitter @BBCtrending, and find us on Facebook. All our stories are at bbc.com/trending.