Who is burning black churches? Twitter activists think they know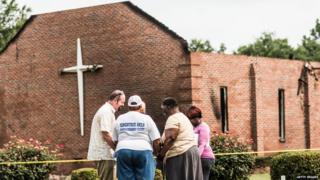 A small group of activists pushed the burning of black churches in the American south onto the news agenda, although it's unclear whether the incidents are linked or what the motivation is behind them.
It's a mystery - or rather, mysteries - spread across a huge region. At least seven African-American churches have been burnt in the southern US over the last two weeks. Arson has been implicated in at least three of the blazes, but officials say there's not yet any evidence that the fires are linked.
But coming as they did after a mass shooting in Charleston in South Carolina, and a resulting backlash against the Confederate flag, activists behind the protests in Ferguson, Baltimore and elsewhere had no doubt that the fires were retaliation attacks against historically black places of worship, and they took to social media to vent their anger.
A co-ordinated effort on Twitter earlier in the week turned the hashtag "Who is burning black churches?" into a worldwide trend, and it's since been mentioned more than 300,000 times. The phrase, however, is slightly misleading - instead of trying to get to the bottom of who might have been behind the fires, most of the messages Tweeted under the hashtag criticised mainstream US media outlets, claiming that they were ignoring or downplaying the story.
"I live in knoxville [in Tennessee] and had to hear about a black church being burned IN MY CITY from twitter thanks local news," one man tweeted.
The campaign was the brainchild of a relatively small group of activists, many of whom identify themselves on their Twitter profiles as supporters of Black Lives Matter, a movement that originally sprung up to protest alleged police brutality and the shootings of African-Americans.
It became a political force last year during protests and riots in Ferguson, Missouri, after 18-year-old Michael Brown was shot dead by a police officer. One of the activists who rose to prominence after live streaming events in Ferguson, Palestinian-American and St Louis native Bassem Masri, was also one of the main Twitter users behind the "Who is burning black churches?" hashtag.
"We circulated the idea through [direct messages] so that at a specific time, everyone would to go hard on the hashtag, and encouraged everyone to keep at it," he told BBC Trending.
The church burnings were by no means completely absent from the news prior to the Twitter storm - many news outlets, including Buzzfeed, the New York Times, and the BBC reported on the story before the action. But Masri says the real target of the campaign was American domestic television networks, and in particular, 24-hour news.
"We're talking about CNN and Fox," he says, "because not everyone's on social media."
Throughout American history, church burnings have been used by white supremacists to intimidate black communities. The tactic was common during the civil rights movement of the 1950s and 60s, and the BBC's Nick Bryant reports that it remained prevelent in the 1990s, so much so that President Clinton established a task force to investigate church fires.
A common theme of the Twitter activists is that the burnings are acts of terror, although the FBI has not yet identified a motive for the alleged arsons, nor have they been labelled hate crimes by the authorities.
"Media loves to report terrorism commited by brown ppl but not about domestic terrorism committed against brown ppl," read one typical comment.
"America is so worried about ISIS and terrorism," Masri says, "but when domestic terrorism is going on throughout the US, the mainstream media turns a blind eye to it. What we did is force them to talk about it."
A Google News search about the fires returned more than 1,400 stories, up from just over 300 on Tuesday. Although news of a seventh church fire broke later Tuesday, and could explain the increase, Masri claimed that the Twitter action worked.
"We do have a power base where we are able to relay stories to the world and force them to talk about stuff," he says.
---
US churches hit by fires in recent days
College Hill Seventh Day Adventist Church in Knoxville, Tennessee (22 June). Being treated as arson
God's Power Church of Christ in Macon, Georgia (23 June). Being treated as arson
Fruitland Presbyterian Church in Gibson County, Tennessee (23 June). Blamed on lightning strike
Briar Creek Road Baptist Church in Charlotte, North Carolina (24 June). Being treated as arson
Glover Grove Baptist Church in Warrenville, South Carolina (26 June). Cause undetermined
The Greater Miracle Apostolic Holiness Church in Tallahassee, Florida (26 June). Blamed on an electrical fault
Mount Zion African Methodist Episcopal Church in Greeleyville, South Carolina (30 June). Cause undetermined
Blog by Mike Wendling
Next story: Donations surge after Girl Scouts return transphobic gift
The Girl Scouts of Western Washington returned a $100,000 (£64,000) donation after the donor said transgender girls couldn't benefit. In response, the organization's leaders launched an online fundraiser that has more far outpaced the original contribution.READ MORE
You can follow BBC Trending on Twitter @BBCtrending, and find us on Facebook. All our stories are at bbc.com/trending.