Michael Gold: The brains behind the pea guacamole controversy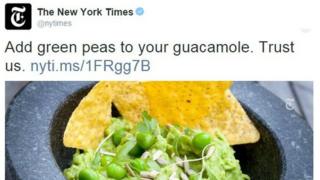 A New York Times tweet suggesting readers "add peas to your guacamole" received a flurry of response from celebrities, news sites and even President Obama. The man behind the tweet explains his methods.
Michael Gold wants everyone to know he was not trolling people when he tweeted, "Add peas to your guacamole. Trust us," from the official New York Times account along with a link to a recipe - a recipe that happened to be two years old.
"Absolutely not," he says. "My reaction was, 'Oh, that's interesting. Peas in guacamole.'"
Barely a month into his job as a social media editor for the paper, Gold swears he is just as shocked as everyone else by the internet virality of the suggestion that adding pureed and whole English peas to guacamole is an improvement on the classic Mexican dip. The internet vigorously disagreed.
"Possibly the worst food advice ever," one reader responded.
"The @nytimes declared war on Texas when they suggested adding green peas to guacamole," tweeted the Texas GOP account.
The negative reactions went all the way to the top - about two hours after the tweet went live, the President of the United States weighed in.
"respect the nyt, but not buying peas in guac. onions, garlic, hot peppers. classic," wrote Barack Obama.
It's received 700 retweets and over 1,000 favorites in 24 hours, inspiring hashtags like #GuacGate. There have been spinoff pieces from other media outlets pontificating on previous presidents' opinions on peas and giving examples of even worse additions to the avocado spread (canned tuna). Republican presidential candidate Jeb Bush snubbed the recipe on Jimmy Kimmel's show.
According to Gold, it all started innocently enough with a push to promote the New York Times' new food app, "Cooking." The idea was to showcase recipes both new and old on the newspaper's Twitter account, and other members of the staff pulled several summer-appropriate recipes for Gold to choose from. One of them was the 2013 post about pea guacamole.
"It looked good to me. I though the photo looked great," says Gold. "I think we really kind of wanted to give something we thought would be of use to the people who follow us."
Gold has plenty of insights into why it took off. He already knew that the internet has strong feelings about guacamole - he points to the internet success of a recent story about the amount of calories in Chipotle food. He also knew that there's an intense regional pride surrounding the topic, a key component of many viral stories on the web.
"We know that people love anything that either strikes a chord or challenges their sense of geography or culture," he says.
He also credits the more conversational tone of the tweet, as well as the timing - right before the July 4th holiday weekend when lots of people were looking for recipes, and just before lunchtime in the US. He doesn't even mind that much of the online engagement was negative.
"We did not expect people to be opposed to the recipe. We think this is a great recipe," he says.
The New York Times does not release pageview numbers, but it seems safe to say the tweet reaped a healthy amount of clicks and got the internet talking about the New York Times -- even if it was to seriously question the paper's judgment. As for Gold, he says he still hasn't tried pea guacamole -- or any kind at all since he sent the tweet.
"All I've wanted for the past 24 hours is guacamole," he says. "I just haven't quite had the chance to get it."
Blog by Jessica Lussenhop
Next story: Girl Scouts reap benefits after donor refuses to support transgender girls
The Girl Scouts of Western Washington returned a $100,000 (£64,000) donation after the donor said transgender girls couldn't benefit.READ MORE
You can follow BBC Trending on Twitter @BBCtrending, and find us on Facebook. All our stories are at bbc.com/trending.