Reporting on a coup and a crisis... using a music-sharing site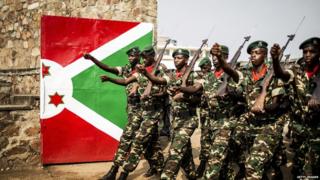 It's a country in crisis: a failed coup, disputed elections, dozens of protesters killed by police and a crackdown on independent media.
But journalists in Burundi have hit upon a novel way of continuing to get the news out amid this turmoil, using social media and an app more often associated with indie bands, niche podcasts and DJ remixes.
The recent trouble began in April when Burundi's President Pierre Nkurunziza - who's been in power for nearly a decade - announced he'd run for a third term.
Some army generals objected and tried to remove him from office, but the coup failed after two days. Nkurunziza was soon back in office, but the unrest has continued. Scores of people have been killed and more than 120,000 people have fled the country.
There's also been a crackdown on independent media in advance of the presidential elections later this month. Independent radio stations have shut down, and some studios have been trashed and burned.
"Before the coup Burundi had a vibrant independent radio sector," says the BBC's Maud Jullien, who's been covering events in the country. "Now that has been reduced to nothing."
State-run and pro-government media continues to operate, but independent journalists in the country have found a new way to get the news out. Some of them have formed an underground group called SOS Medias Burundi, which is using social media to get around state censorship. The group has a Twitter feed, a Facebook page with 13,000 likes, and radio journalists are also releasing reports using the audio application SoundCloud.
---
BBC Trending Radio
Hear more about this story on the BBC World Service - you can stream our radio programme or download our podcast.
---
One of the organisation's volunteers outside the country (who asked to remain anonymous for fear of putting journalists inside the country in danger) explained the way independent journalists are trying to work in Burundi.
"They move houses every night. Others lead double lives. The main difficulty is for them to go to the hot spots and not be noticed, so they try and lose themselves among the population. This requires a lot of planning," he says. "The other issue is getting access to an internet connection. We have some safe places to upload the material and we are getting help from people who aren't journalists."
One of the SOS Medias reporters inside the country sent BBC Trending a recording detailing some of the difficulties the group has encountered.
"Our aim is to give verified and true information, because there are so many rumours here that it's difficult to tell what's going on in our country. It's not easy to do this job because journalists are wanted [by the authorities] here. If someone says something as simple as 'Hey Mr Journalist', you feel like he is putting you in danger."
The online approach does have one serious limitation: at just over 1%, internet penetration in Burundi is extremely low even by African standards. But although the potential audience is relatively small, SOS Medias reporters say they're trying to provide a vital lifeline in advance of presidential elections later this month. Reporters have been covering the crisis and how it's affecting ordinary life in the country.
"In the case of Facebook and Twitter, there is a group of people in the capital who do have smartphones, and who in the last two months, have really started to use social media. They are the ones following us," says the SOS Medias volunteer. "With SoundCloud, it's different. Because of poor internet connections, the audio can't be streamed in Burundi itself. So it is mostly aimed at outsiders, diplomats, politicians, journalists who care about the country."
"The people making the reports are all radio journalists who are traumatised that they can't do their jobs. It's a huge loss for them psychologically. So the exercise of making radio really matters. It's a symbol of resistance," he says.
The organisation might be one of the few independent internal sources of news from Burundi for quite some time. "Closing down radio stations played a big role in diminishing the opposition within the country," says the BBC's Maud Jullien. "Until the government feels that it is in total control, the chance of independent radio stations reopening seems remote."
Presidential elections are scheduled for 15 July, and the group has vowed to continue its work.
"We've had trouble with policemen, but we keep going because it's our mission to tell the truth about what is happening here," says the SOS Medias reporter. "We won't stop, we will keep doing this as long as we are able."
Reporting by Sam Judah, Estelle Doyle and Anne-Marie Tomchak
Blog by Mike Wendling
Next story: 'I'm HIV positive ... will you touch me?'
Janne Antin decided to do an experiment. He stood in the centre of the Finnish capital Helsinki with open arms and closed eyes, next to a sign that read: "I'm HIV positive...touch me!" READ MORE
You can follow BBC Trending on Twitter @BBCtrending, and find us on Facebook. All our stories are at bbc.com/trending.