Boston kimono exhibit in race row
By BBC Trending
What's popular and why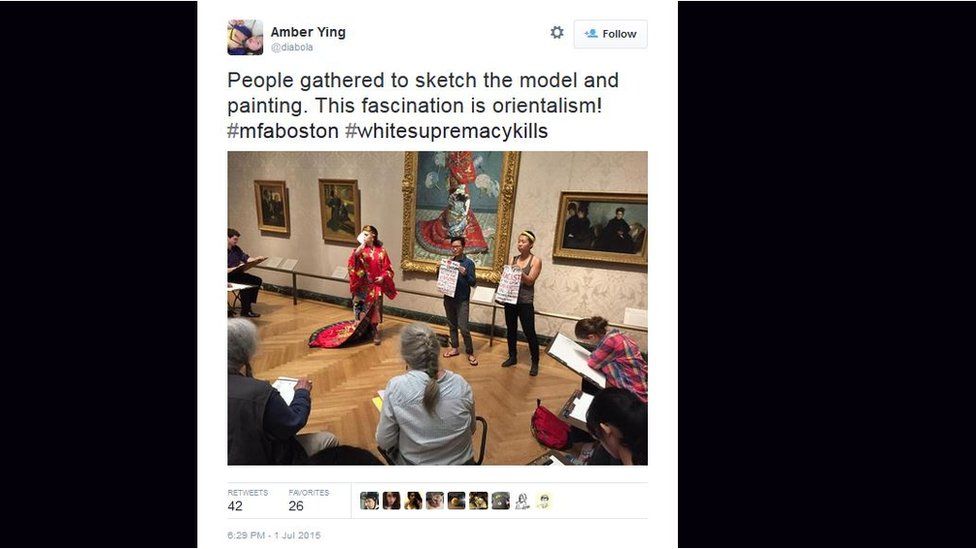 Following an uproar of criticism on social media, the Boston Museum of Fine Arts (MFA) cancelled an event that protesters labelled racist and culturally insensitive.
Museum officials announced that they would cancel "Kimono Wednesdays," which was originally scheduled to run until 29 July.
Every week, visitors were encouraged to "channel your inner Camille Monet" by posing in front of Claude Monet's "La Japonaise" while trying on a replica of the kimono Monet's wife, Camille, wears in the painting.
Protesters quickly labelled this event as racist, saying it propagated racial stereotypes and encouraged cultural appropriation.
Some stood with signs next to visitors who tried on the kimono.
"It's not racist if you looks cute & exotic in it besides the MFA supports this!" one sign read.
Amnes Siyuan, one of the protest's organisers, said: "A bunch of people tried to prove that they were not racist. That was not the point. We wanted to talk about why this event is cultural appropriation."
Christiana Wang, another protester, said Asian Americans tend to be underrepresented and are forced into certain categories, such as the geisha or the quiet student.
The museum initially continued the event, releasing an internal memo to their staff that defended the attraction.
"We don't think this is racist," the memo states. But the event was eventually cancelled. On Tuesday the MFA released a statement on their website in which they "apologise for offending any visitors".
MFA Deputy Director Katie Getchell said the museum decided to follow the concerns of the community but it was not uncommon for the museum to have exhibits where visitors interact with artefacts.
"We wanted people to engage with the painting," Getchell said. "It was a way to help them understand the painting, the artist's choices and the time. We never meant to be offensive."
There was considerable outrage on social media.
A Tumblr page was created where protesters posted pictures and responded to the MFA's statement. Amnes Siyuan hosted a Facebook group "Stand Against Yellow-Face @ the MFA".
"There's a difference between appreciation and appropriation, MFA. As a former Boston resident and patron of the museum I'm embarrassed for you," Facebook user Junko Goda commented.
"Just because you don't think it's racist or cultural appropriation it does not make the impact on those who see it any different #MFABoston," tweeted Aaron P.
Aparna "Pampi" Das, one of the protesters at the museum, said the exhibit "goes back to the world exhibition in Europe where visitors would come see people in cages brought from Africa".
Das said there will still be protests because the museum is still displaying the kimono and encouraging people to touch it "under a continued and creepy orientalist gaze".
She said the protests will continue until the museum issues a formal apology and opens a panel to discuss this incident in public with some of the protesters as panelists.