How videos of supermarket raids show what life is like in Venezuela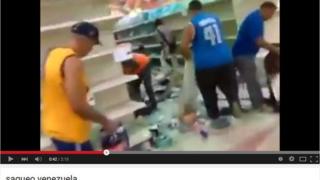 Every week at least one video showing people looting either a supermarket or a lorry full of food is shared online by Venezuelans. Some of them get thousands views of and some just a few hundred, but they are highlighting food shortages in the country.
With a collapsing currency and the highest inflation rate in the world, shortages of basic products have become the norm in Venezuela over the last few years. The situation reached crisis point earlier this year when thousands posted pictures online of empty shelves - and now it seems to be getting even worse.
Videos like the one shown in the still image above are being shared on Whatsapp, YouTube or Facebook. Some of them are picked up by media opposed to the Venezuelan government or sent directly to anti-government sites. "Definitely, there has been an increase in these kind of videos," one of the people behind the anti-government website Dolar Today told BBC Trending. "Every week, we get between five and 10."
The problem is that it's very difficult to verify the origin, date and place of these videos. "Without a doubt, there is a chance that they might be false, or out of date. But the vast majority of the cases are real," said the Dolar Today spokesperson, who asked to remain anonymous for his own safety. "We are very careful not to publish things that are not real. Sometimes we speak to the person who sends us the video, but for others we don't think that's necessary."
But why are Venezuelans sharing these images? One reason might be the current mindset in the country. According to polling firm Datanalisis, Venezuelans consider food shortages to be the biggest problem facing the country, followed by inflation and crime. "The people, mainly middle and lower class people, have to queue for hours almost every day for food and other basic products such as detergent, oil, toilet paper," public opinion expert Marcelino Bisbal says.
Another reason - suggests media researcher Andres Cañizares - is the lack of reliable information from both the Venezuelan government and opposition media in a highly polarised country. "This drives lots of people to share things that they think have journalistic value, as there isn't one single media outlet in Venezuela that can tell us what's actually happening," he says.
"I post these images so I can show those who are pro-government the reality of our country," said Twitter user @aeggatite, who tweeted the above picture. Others echoed those sentiments. "I'm Venezuelan and it hurts to see what's happening in my country and to see how local media don't report these kinds of events," commented user @negritaVALIEN.
However, there's a big risk - spreading information that turns out to be false. "These messages can fuel uncertainty at a moment when people feel anxious about shortages," said Cañizares.
"This is highly dangerous in a country where the government policy is not to say a word about this, as if it's not happening," added Bisbal.
BBC Trending asked the Venezuelan government for comment, but received no reply. However, in the past it has claimed that these types of images posted on social media are part of a campaign against President Nicolas Maduro orchestrated by private companies and foreign governments.
Reporting by BBC Mundo's Gabriela Torres
Next story: Should domestic abusers be shamed online?
A shocking video by a woman with a black eye went viral this week - but is taking to social media with abuse allegations always the right thing to do? READ MORE
You can follow BBC Trending on Twitter @BBCtrending, and find us on Facebook. All our stories are at bbc.com/trending.